Akkara adisal or akkaravadisal is an authentic iyengar recipe, which is generally made during the month of Margazhi. Many people make this during aadi velli and thai velli too. I have made this akkaravadisal with sugar and have posted too. This typical iyengar dish i got the recipe, though i know how to make, bit not sure of the proportions. So asked my friend whose mom makes it very awesome and ended up with mouthwatering creamy akkara adisal. Over to the recipe of akkaravadisal using jaggery.
Ingredients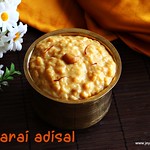 Preparation Time
: 10
 mins
|
Cooking Time
:35 mins |
  Serves
: 2-3
Raw rice  1/2 cup
Milk      1 and 1/2 cup + 1/2 cup
Water     1/2 cup(to cook rice) + 1/4 cup for jaggery
Jaggery    3/4 cup (adjust according to your taste)
Ghee       2-3 tblsp
Cashew   5
Saffron     3-4 strings
Pacha karpooram   a pinch (optional)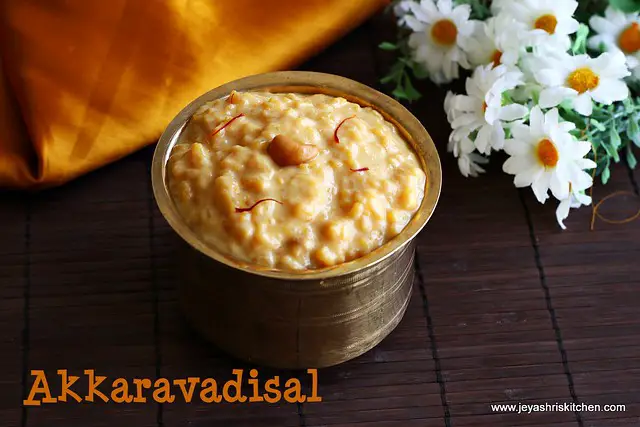 Method:
Melt the jaggery in a pan, by adding little water. Filter the impurities and let this boil for 2 minutes.
Soak the safforn in 2 tsp of warm milk.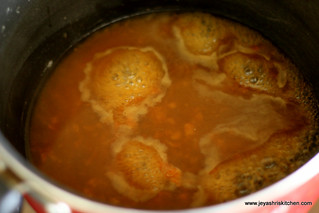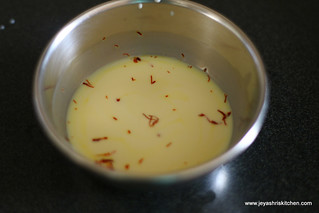 Soak the rice in 1/2 cup water for 10 minutes and add 1 and 1/2 cup of milk and cook this in a pressure cooker till 7-8 whistles and keep it in a a low flame for 10 minutes and switch off the flame. Take out once the pressure releases and mash the cooked rice into a nice paste with the back of a ladle.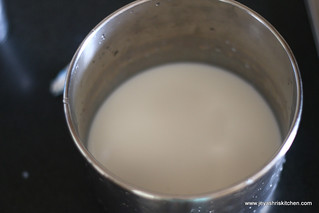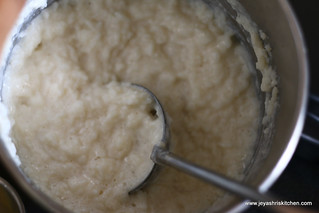 Add the saffron milk to this. Add the melted jaggery also to this.
Mix this well.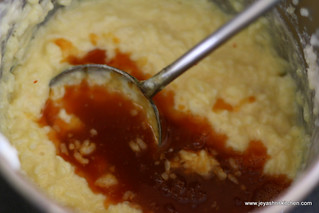 Fry the cashew nuts in ghee and add it to the rice jaggery mixture.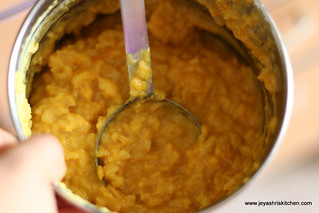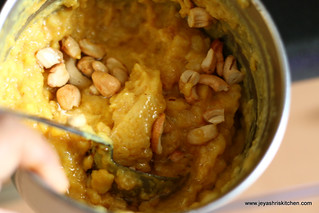 When the mixture is bit cooled down add 1/4 cup of  boiled and cooled milk to this .
Akkaravadisal is ready for neivedhyam.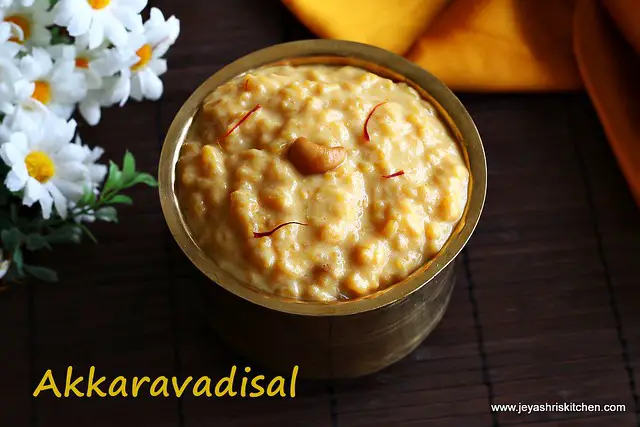 Note:
Never add hot milk to the jaggery mixed rice. The milk may get curdled.
Jaggery was just perfect for me, you can add little more if you find it less sweet.
A pinch cardamom powder can also be added if you want.
Saffron gives a very nice flavour to the akkaravadisal, so do not skip it.
Never add  milk to the jaggery water. It will curdle for sure.
You can add 2 tblsp of moong dal while cooking the rice