Dal is a very staple food at our house and all of us love to have dal with plain rice or roti too. Especially kids will eat dal without any complaints. When i shared 30 recipes for Aval vikatan magazine, i gave this recipe of carrot dal too. In the normal dal ,which we make i added carrots and used masoor dal in the place of normal dal. While making this post again for blog, i don't have masoor dal at home , so replaced with yellow moong dal. Check out my
masoor dal tadka.
Ingredients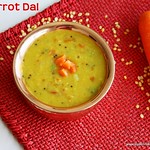 Preparation Time
:
10 mins
|
Cooking Time
: 25 Mins |
Serves
:2-3
Yellow moong dal | masoor dal 1/4 cup
Carrot 1
Onion 1
Tomato 1
Garlic 4 pods(optional)
Green chilli 1-2
Oil |Ghee 1/2 tblsp
Salt to taste
Lemon juice 2 tsp
Mustard seeds 1/4 tsp
Curry leaves and coriander leaves few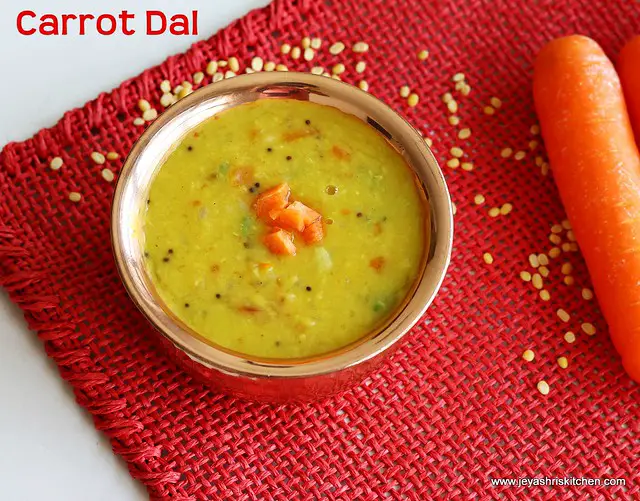 Method:
Soak the dal for 10 minutes. Chop thecarrots, finely chop the onion, tomato and peel the skin of the garlic.

Add this to the soaked dal and add the turmeric powder.
Pressure cook this for 4-5 whistles. In a pan add the ghee| oil and add in the mustard seeds,slit green chilli and curry leaves.

Add the cooked dal to this and the salt.

Add water to get the right consistency.

Allow this to boil for 2-3 minutes and switch off the flame.
Add lemon juice to this and mix well. Add coriander leaves to this.

Serve hot with rice or roti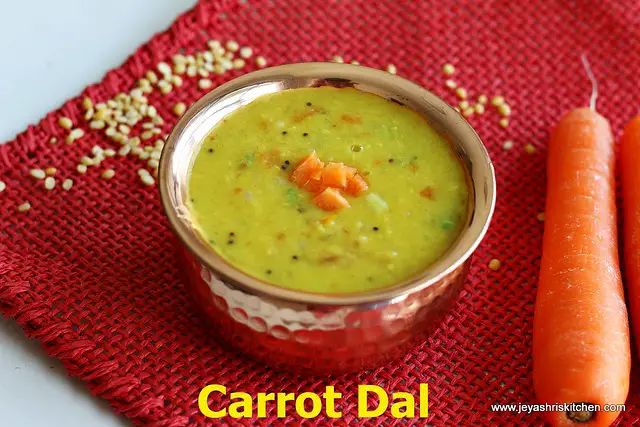 Note:
Do not add the lemon juice while dal is boiling. It will make the dal bitter.
You can add a pinch of garam masala in the last to enhance the flavor.
Adding kasoori methi in the last will enhance the flavor.