Channa masala or Chole masala a popular punjabi gravy, without onion and garlic, recipe with step by pictures and full video. Very recently my son Varun started to eat chickpeas and since it is a great source of protein, i make Chana masala every week . Check my version of Chana masala which i had posted earlier 
here
. During this 15 days before navaratri and during navaratri, many people observe fast and also don't include onion or garlic in their food. This recipe of Chole masala doesn't include onion or garlic and yet turned out very tasty and yum. I learnt this recipe from my relative and now a days i am making  chole masala in this style only. This can be made in pressure cooker in one shot.
Check out my full collection of 
No onion no garlic recipes.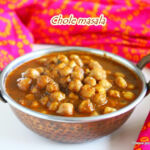 Ingredients
Chickpeas 2 cups (uncooked)

Coriander leaves a small bunch

Tomato 2

Ginger a small piece

Red chili powder 1.5 tsp

Cumin powder 1 tsp

Coriander powder 1 tsp

Garam masala 1 tsp

Water 1 cup

Tea bags 2 (optional)

Oil 1/2 tblsp

Kasoori methi 2 pinches

Salt as needed
Description
Channa masala or Chole masala a popular punjabi gravy, without onion and garlic, recipe with step by pictures and full video.
Notes
1. Few drops of lemon juice can be added and mixed well before serving the no onion no garlic chana masala.
2. Tea bags gives nice color to the gravy and will not alter the taste.
3. If you want to add onions, chop them finely and add it in the beginning, after adding oil.
4. No onion no garlic chole masala pairs well with poori and chapati.
Method with step by step pictures :
Soak the channa for 8 to 10 hours or overnight.
Grind the coriander leaves, 2 tomato and a small piece of ginger into a fine paste adding little water.

Add oil in a pressure cooker and add this ground paste. 
Saute for a minute.
Add in 1.5 tsp of red chili powder, 1 tsp cumin powder, 1 tsp coriander powder and 1 tsp garam masala along with necessary salt. 

Saute them in a low flame for 2 minutes. 
Now add the soaked chickpeas. Add 1 cup of water. I washed the mixie and added that water. 
If adding tea bags add now.

Adding tea bags gives nice color to the gravy. It won't alter the taste. 
Cover the cooker and pressure cook for 5-6 whistles.
Once done and pressure is released, open the cooker.

Discard the tea bags.
Add crushed kasoori methi to this. 

Mix well, add water if it is too thick and give it a boil.
If by chance it is watery, you can grind few cooked chickpeas and add it to the gravy and bring it to a boil.
Chole masala without onion and garlic is ready.
Serve hot with roti, poori or even with jeera rice too. 
Also you can make Bread chana using this chole masala.