No onion no garlic recipes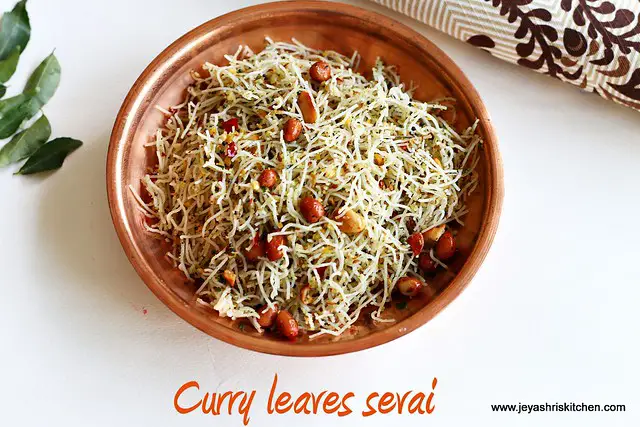 Sevai | idiyappam is a rare thing in my kitchen as kids are not a big fan of these. My amma makes a lot of variety in sevai and she always makes the idiyappam from scratch. Last month when i invited my friends and neighbours for Varalakshmi pooja evening, i made this sevai . It was a huge gathering with almost 50 plus people and so i opted for the instant rice sevai only. I used concord and double horse brand also works out best. It was actually an instant idea and without much thinking i made this and it was a super hit among the guests.

Ingredients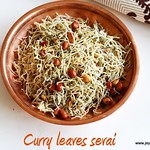 Preparation Time
:
5 mins
|
Cooking Time
: 15 Mins |
  Serves
:1
    Instant rice sevai | rice noodles   3/4 cup
    Dhaniya | coriander seeds   1 tsp
    Urad dal     1/2 tsp
    Channa dal   1/2 tsp
    Red chilli  1
    Grated coconut    2 tsp
    Curry leaves   10-12
    Oil   1 tsp
    Mustard seeds    1/4 tsp
    Peanuts     1 tsp
    Cashew nuts   3
    Salt    to taste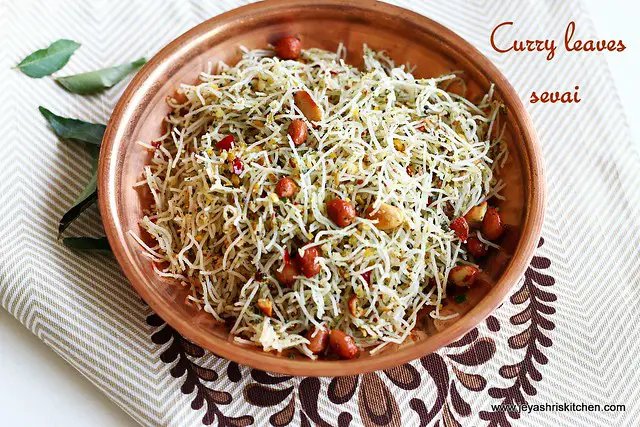 Method:
Cook the sevai according to the packet instructions. Actually just put them in very hot water for 2 minutes and drain the water.
add 2 drops of oil to this and mix well and keep aside.

Dry roast the coriander seeds, red chilli, channa dal and urad dal. When it turns golden brown add the coconut and the curry leaves. Roast for 2 minutes in a low flame and switch it off. Do not burn the curry leaves.
Add oil in the pan and temper with mustard seeds, peanuts and cashew nuts. Add this to the cooked idiyappam. Add salt to taste.
Grind the roasted ingredients into a coarse paste. Do not add water.
Add this to the sevai. Mix well with dry clean hands.
Curry leaves idiyappam is ready to serve.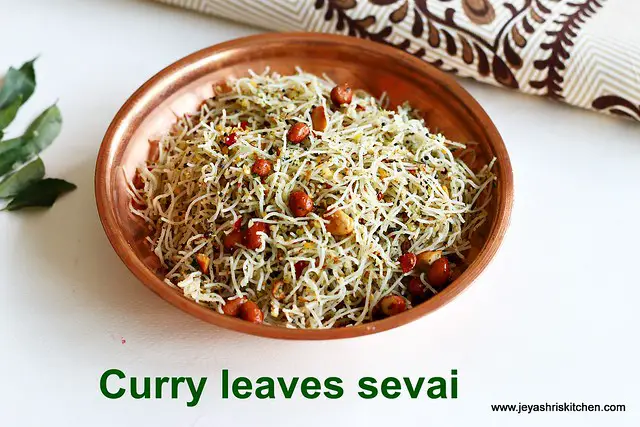 Notes:
You can add mint leaves instead of curry leaves. I made the same with mint leaves and mixed with rice. This recipe i have given for the Kunguman Thozi .
You can add 1/2 tsp of ghee in the last, to enhance the flavor.
A simple vadam or appalam is a best combo for this sevai.