Fruit Chaat is a very healthy snack recipe.If  any kids who are fussy eaters, especially doesn't eat fruits , this is one of  the best way to make them eat fruits. Though i love to add Chaat masala to pineapple and guava,  suresh always advises me eat it as such. But once in a while me and my daughter varsha will eat in this way. Very long back, i have seen my friend making this fruit chaat for her son who is a fussy eater. Though it is always good and healthy to eat fruits as it is, once in a while we can have like this , for a change. During fasting days, we can have this fruit chaat too. Sometimes after some festival days if we have lot of fruits at home , we can make this also.
Ingredients

  Preparation Time
: 10
 mins
|
Cooking Time
: Nil |
  Yields
: 1 Cup
     Mixed fruits*   1 cup 
    Red chilli powder   1/8 tsp
   Cumin powder   a pinch
   Salt   A pinch
   Chaat Masala  a Pinch
   Sugar  1/8 tsp
   Lemon juice  few drops
   Mint leaves  to garnish
  *I used pineapple, pear, apple,goa  and pomegranate .
You can add cucumber , mango, strawberry, watermelon  and grapes too.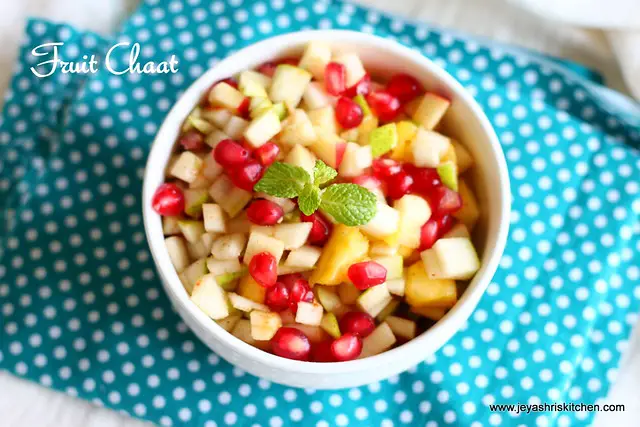 Method:
Chop all the fruits you are using. Chop them according to the size you want. Apple and pear you cut into 2 and dip in water. Add little salt or few drops of lemon juice to the water. This is to avoid the discoloration of apple and pear .
Add  red chilli powder,cumin powder,salt, chaat masala, sugar and lemon juice. Mix well. garnish with mint leaves.
Serve immediately.
Always keep the fruits in the refrigerator before chopping, if you want them to have chill. Do not keep them for too long as it will ooze out water.