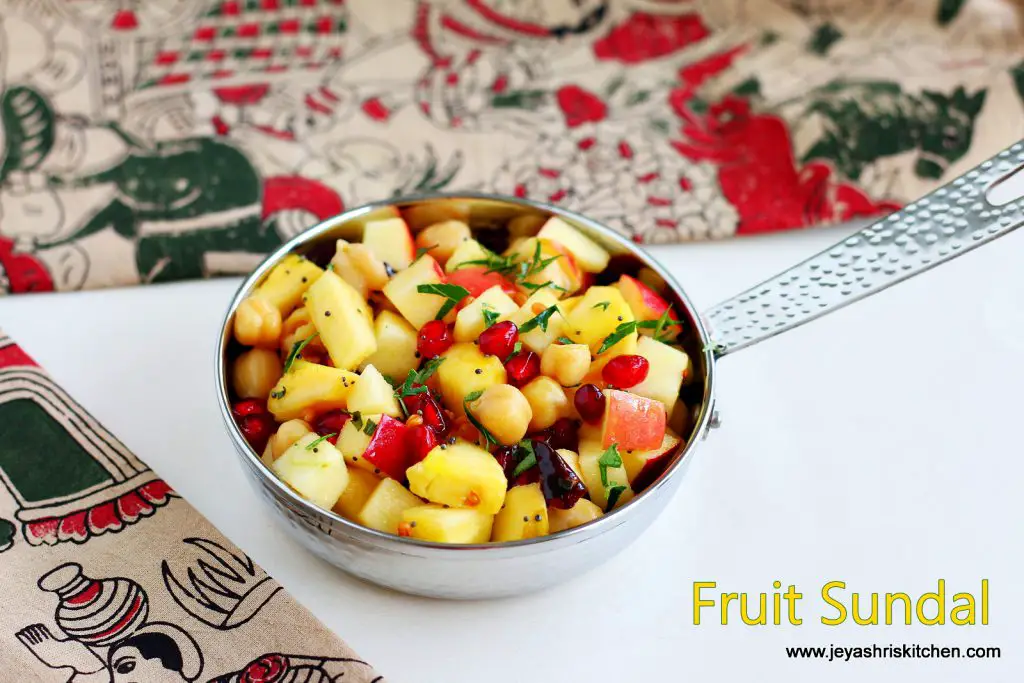 Fruit Sundal is a new and different variety of sundal which i tried recently. Few years back i tried a pineapple salad in Hotel Green park ,chennai. I loved it very much and also tried at home. I have given the recipe in my Kungumam Thozi supplement 2 years back. I just added some chickpeas and other fruits to the same recipe and it turned out very well. Try this healthy and easy sundal at home for navaratri. The flavour of the curry leaves and the crunchiness of the urad dal compliments the sundal.  Check out my other Navaratri sundal recipes too.

Fruit Sundal
  Preparation Time : 10 mins | Cooking Time : 15 Mins |Serves: 4-5
    Chickpeas | kondakadalai or Peanut    1 cup
    Apple   1
    Pomegranate   1/2 cup
    Pineapple  1 cup 
    Oil  3 tsp
    Mustard seeds   1/4 tsp
    Urad dal   3 tblsp
    Red chili  3
    Curry leaves  few
    Lemon juice   1/2 tsp
    Salt  as needed
     
Fruit Sundal recipe
Method:
Soak the chickpeas overnight and cook it with little salt and drain the extra water.
Chop apples and pineapple into cubes.
In a wide bowl add the chickpeas, apples, pineapple and pomegranate.
Add Salt.

Chop the curry leaves and tear the red chili.
In a small pan add oil and add in the mustard seeds, urad dal, chopped curry leaves and red chili.
Cook till the dal turns golden brown.
Add it to the fruit mixture and lemon juice.

Give it a nice even mix.
Fruit sundal is ready to serve.

Discard the red chili before serving.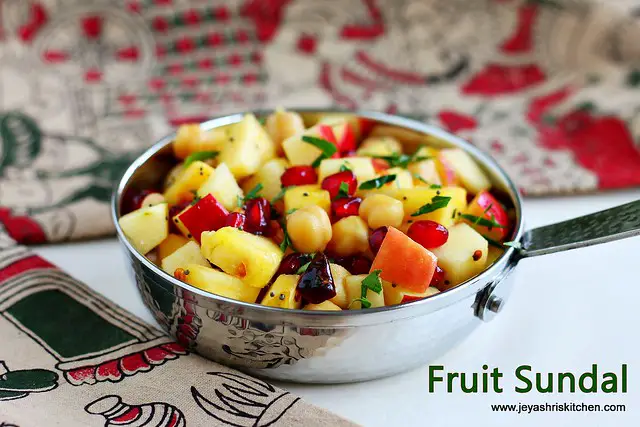 Notes:
Pear, grapes, kiwi, strawberry and any variety of sundal can be added.
Raw mango can also be added.
Peanuts can be added in the tadka to get a crunchy taste.
Dry fruits like almonds, raisins and any other seeds can also be added.
Green chili can be replaced with red chili.
Chaat masala and finely chopped coriander leaves can also be added.