Garlic almond soup, is a perfect one for this cold weather. Last year i have given this recipe for Kungumam thozi supplement themed "soups and salads". This recipe was a super hit at our house. I tried this with bottle gourd when i gave this for the supplement book. While i was doing this again for the post last week, i don't have bottle gourd at home and so replaced it with potato. the soup was quite thick and creamy and yum. Name it a creamy potato soup or almond soup or garlic soup, it is a flavourful soup and quite filling too. Try this out at home and let me know how it turned out. I am out of station for the next 10 days. I have scheduled few simple recipes for the next few days. Will respond to your queries and mails once i am back. Thanks for your kind understanding. Check out my other soup recipes.
Garlic Almond Soup
Preparation Time : 10 mins | Cooking Time : 20 Mins |Serves: 3-4
Garlic pods 6
Almond | Badam 15
Potato* 1
Milk 2 tblsp
Butter 2 tsp
Salt as needed
Black pepper powder to taste
*Instead of potato you can add 1/2 cup chopped bottle gourd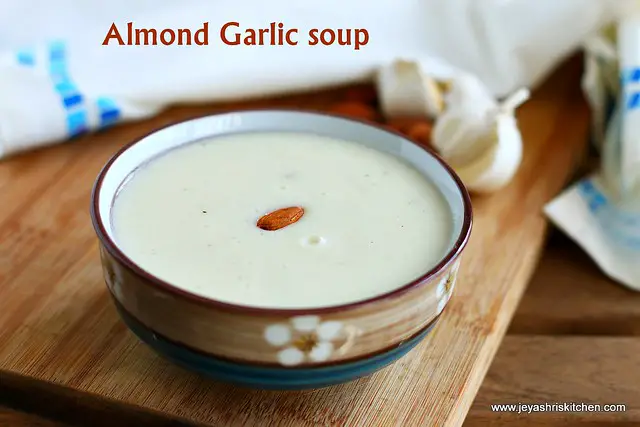 Method:
Soak almonds in hot water for 15 minutes and take out the skin.

Peel the skin of the potato and garlic pods. In a pressure cooker add butter and cubed potato and garlic pods. Saute for 2 minutes till it emits a nice aroma. Be careful not to burn it.
Add 2 cups of water to this.

Cook till 3-4 whistles. Grind the almonds with the milk into a smooth paste. Keep it aside.

Grind the cooked potato and garlic. Do not discard the water. We will use it for the soup.

Transfer this to the cooker. I made in the pan as it will give a clear picture for you to see. Add the almond paste to this.

Mix well. Boil this for 2 minutes. Add 1 cup of water to bring this to a soup consistency.

Add salt and pepper powder and mix well.

Garlic almond soup is ready to serve.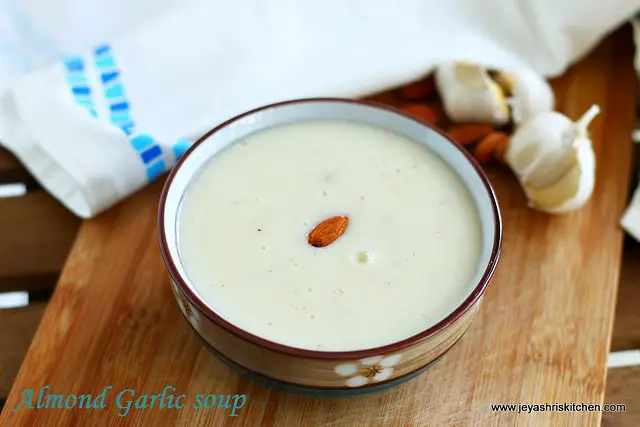 Notes:
Instead of potato you can add lauki|bottle gourd or even cauliflower too.
Since the potato makes the soup thick add more water to bring it to a right consistency.