I never tried gulab jamuns on my own,even using the instant gulab jamun mix. When i saw the recipe of homemade
gulab jamuns using khoya
in Nags space, I bookmarked it at once and bought a packet of khoya on the following weekend. It turned out very soft and now i am confident in making jamuns.
For original recipe click
here
.
preparation time:15 minutes Cooking time: 35 minutes Yields:25-30 jamuns
INGREDIENTS:
| | |
| --- | --- |
| GRATED KHOYA | 1CUP |
| MAIDA |ALL PURPOSE FLOUR | 1/3 CUP |
| WATER | 2-3 TBLSP |
| SALT | A PINCH |
| OIL | FOR DEEP FRYING. |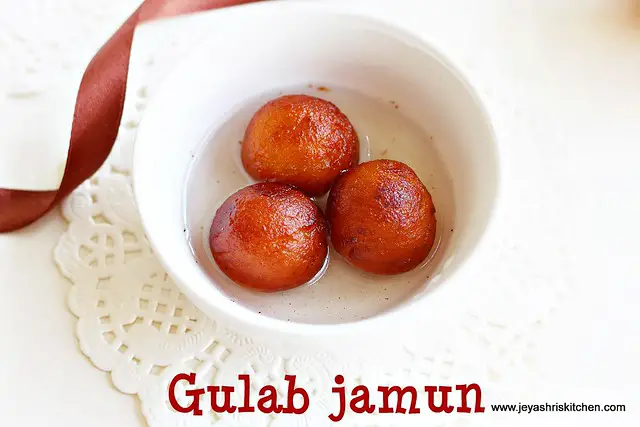 FOR SUGAR SYRUP
| | |
| --- | --- |
| SUGAR | 2 CUPS |
| WATER | 1 AND 1/4 CUP |
| ROSE WATER | FEW DROPS(OPTIONAL) |
METHOD:
Bring the khoya to room temperature and mix it with the flour and salt .
Add water to this to make a stiff dough. Mine took 2 tbslp of water to knead.
The dough shouldn't be sticky.
Make it into a mini lemon sized balls.
Don't make it too big as it will slightly expand on frying and  after soaking in the syrup.
Heat the oil and when it is hot(not too hot) add the balls to the oil.
Do not put to much at a time. Always ensure that the jamuns must be fried in medium low flame, else the inner part will not get cooked.
When it is done ie. turns golden brown colour, drain it in a kitchen towel.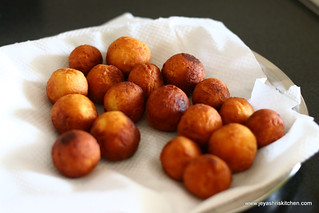 Combine the ingredients in the sugar syrup table to make the syrup.
When the sugar gets dissolved and the water starts boiling put off the flame.
Dunk in the fried gulab jamuns to the sugar syrup .
Enjoy this after 3-4 hours or can be served with vanilla ice cream also.
Note:
The addition of the water to the khoya and flour mix depends upon the texture of the khoya. If it is moist then less water is consumed.
You can add a pinch of cardamom powder to this.