Mango margarita is a mexican cocktail , generally mixed with alcohol. The classic way of serving the margarita is by dipping the rim of the serving glass in salt. Last year when we friends went out for a dinner, one of them ordered this margarita and the salt dipped part was so interesting. I wanted to try the Virgin Margarita recipe at home and finally tried with mango. It was so refreshing and i would say it's a perfect summer drink. Try this easy mango margarita recipe at home and get refreshed.
Virgin Mango Margarita
  Preparation Time : 15 mins | Cooking Time : 25 Mins |Serves: 6
    Mango pieces  3/4 cup
    Plain soda  330ml
    Sugar  3-4 tblsp  
    Lemon juice  2 tblsp
    Salt  little
    Ice cubes  few  
                                                       Video of mango margarita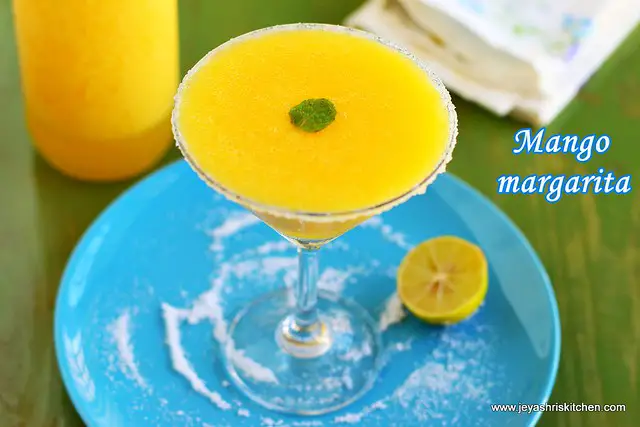 Method:
I used banganapally mango. Scoop out the flesh of the mango and chop them roughly.
In a mixie add the mango pieces, sugar, lemon juice and ice cubes.
Grind this into a smooth mixture.

Add plain soda to this. Mix well.

Take a serving glass and rub the rim with lemon juice.
In a plate add salt and dip the edges with salt. You can also sugar or red chili powder too.

Pour the virgin mango margarita to that glass.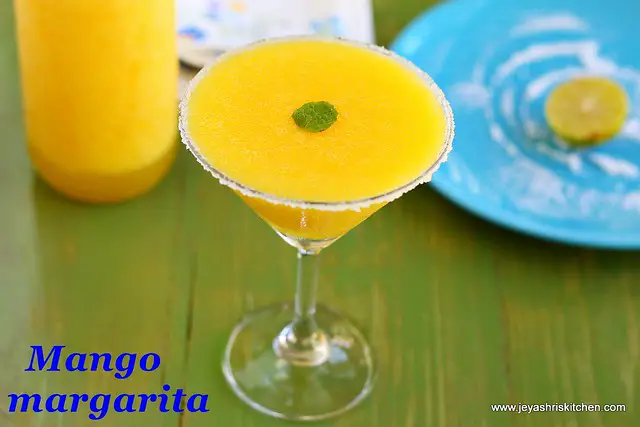 Notes:
Instead of sugar you can make a simple syrup by dissolving sugar and water in equal proportions. Just boil sugar and water till sugar dissolves.
You can use any fruit of your choice. Strawberry, watermelon will go well with this.
For serving instead of salt you can use coarse sugar or mix red chili powder and salt too.
Keep the soda water chilled. You can even add sprite or 7 up also to make Virgin mango margarita.