Masala papad is an easy and interesting snack generally served as a starter. Even we can have this as a teatime snack too. A guilt free snack which is always a  crowd pleaser. Generally for making masala papad i do not deep fry the papad , instead just grease this with little bit of butter or oil and microwave the papad. The pepper flavoured papad will be an apt one for this masala papad.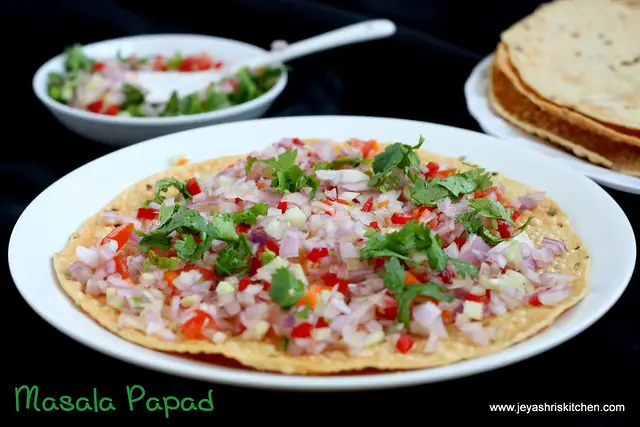 INGREDIENTS:
| | |
| --- | --- |
| PAPAD | 2-3 |
| ONIONS | 1 |
| GREEN CHILLI | 2 |
| TOMATO | 1/2 |
| CUCUMBER | 1/4 |
| CAPSICUM | 1/4 |
| CARROTS | 1/4 |
| SALT | A PINCH |
| CORIANDER LEAVES | TO GARNISH |
| LEMON JUICE | 2-3 DROPS |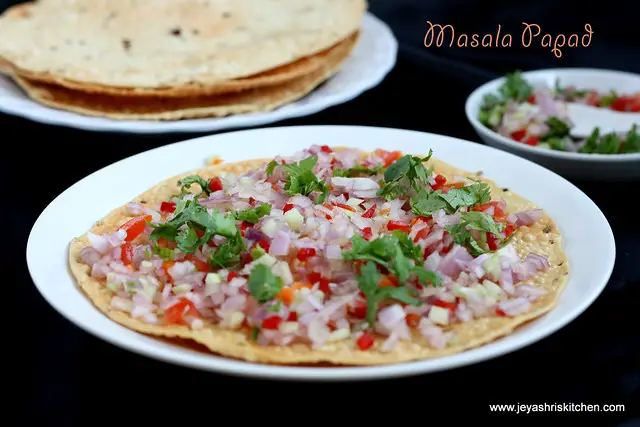 METHOD:
Microwave the papads by applying butter | ghee | oil on one side. Applying this is optional. If you are very health conscious just skip this.
Microwave till the papads are done.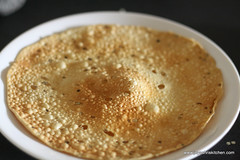 Very finely chop the  onions , capsicum, tomato (deseed), capsicum,cucumber and carrots. Grate the green chillies.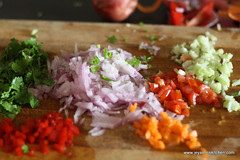 Mix everything together and add salt and add the lemon juice.
chop the coriander leaves.
Just before serving arrange the veggies topping evenly on the papad and garnish with coriander leaves.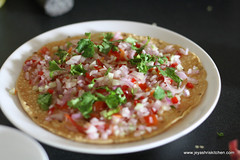 Do not arrange this before else it will make the papad soggy.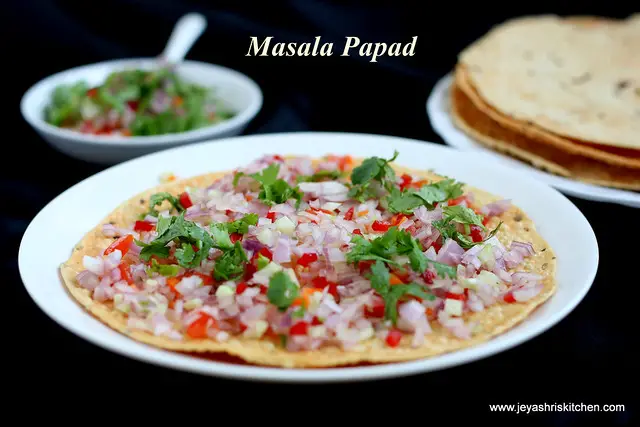 Note:
You can add red chilli powder but i feel it will taste raw.
Chaat masala can be added, but it will suppress the original taste of the veggies and make the taste of the chaat masala dominating.
If adding chaat masala omit the addition of salt.