Modak | how to shape modagam using mould – with a short video on how to shape modakam using a mould.
Though I have seen modak moulds in shops, I never bought one for myself. Somehow I am comfortable making modakams in my hands, so never attempted to buy them. Also, my experience with the sweet somas or karanji mould is not so good and so I didn't buy this modak mould too. When I got it for Raji too I never got one for me. But when my Maharashtrian friends were telling me about this mould a lot and also I got a request from a reader to post the procedure of how to make modak using mould, I thought I will post this recipe. I got these cute little modak moulds from my friend here and tried them at home this weekend. It turned out well and was a good experience making with these moulds too. Check out my other modakam | kozhukattai recipes.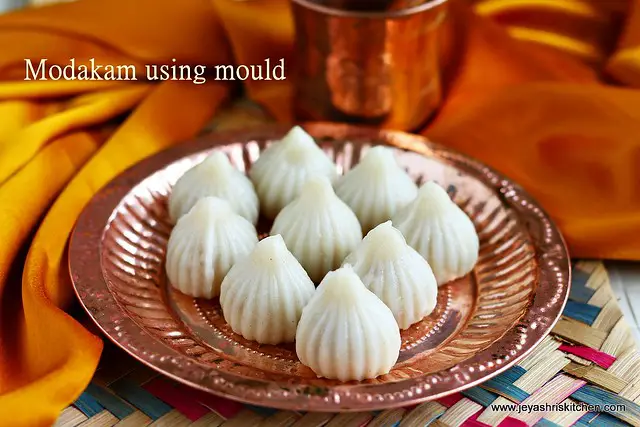 Modak using mould
Modakam using mould
Easy Kozhakattai using mould
Ingredients
For the outer covering
½

cup

Rice flour | Idiyappam Flour

Water as needed

1

tsp

Sesame oil 1 tsp
Video

Here is the video of how to shape modakam using modakam mould
Method:
To make the outer covering:
Boil water in a pan and add the oil to this. If using homemade flour add salt to the oil. Idiyappam flour will have salt,so no need to add salt. Add the flour to a wide bowl. Add the water to it and mix with a spoon.

When it becomes warm and can handle with your hands, grease your hands with little sesame oil and knead it into a soft dough. Divide it into equal lemon-sized balls. Keep them covered with a damp cloth all the avoid dryness.


Take a 3/4 th portion of the dough from one ball. Grease the inner portion of the mould with sesame oil. Put the dough into the mould.

Using your fingers just spread the dough on the walls of the mould. Take a portion of the poornam.

Place it into the mould and seal it with the remaining 1/4th portion of the dough.Seal it well. Else when you remove it from the mould it will have gaps and the filling may come out.

Level the dough with your fingers. Carefully open the mould.

Modakam is ready. Repeat this for the rest of the dough.

Steam this in a greased idli mould for 10 minutes. Once they becomes glossy, switch it off and leave it for 3 minutes.

Modakams are ready for neivedhyam.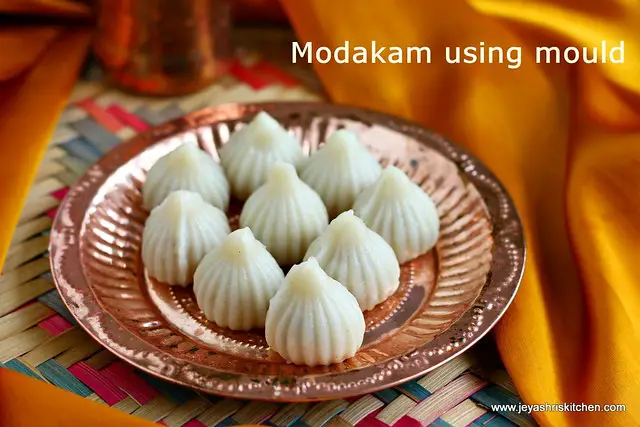 Note:
Grease the mould every time(for each kozhukattai) with little oil before making the modakam,
Always keep the modakams covered, or else they will have cracks after they are cooked.