Mutter paneer pulao | peas paneer pulav is a simple one pot meal, and a quite easy lunch box recipe too. I have given this recipe of Kungumam thozi, youth kitchen. This pulao tasted great and a simple onion raitha paired this pulao very well. If you are looking for easy lunch box recipes, then you should try this . The kids will surely polish off the tiffin box even without leaving a single grain of rice.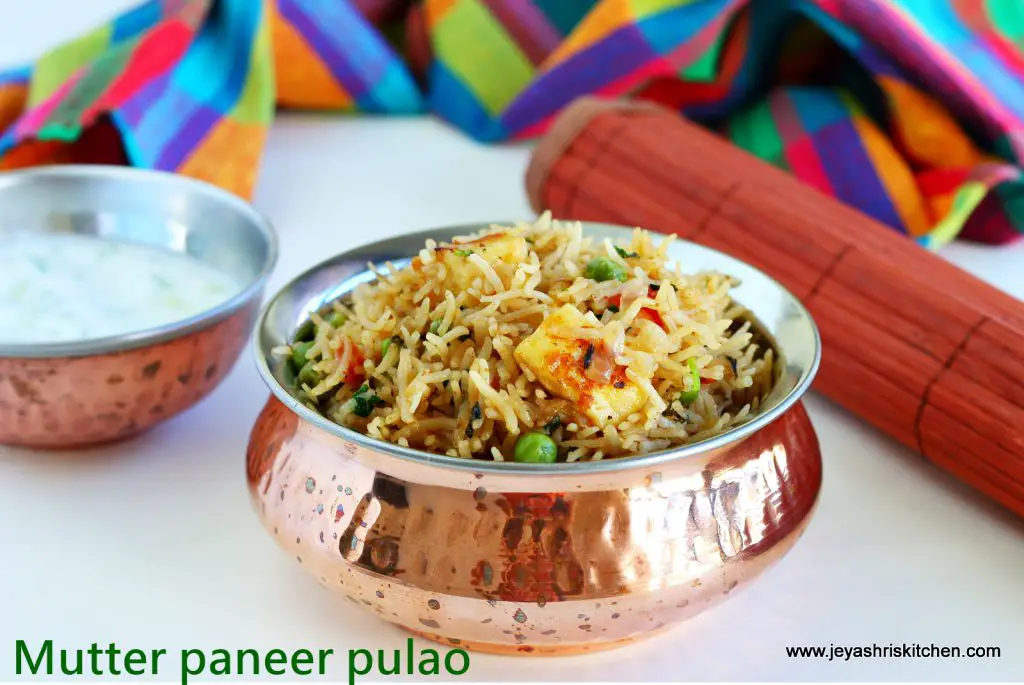 This is a scheduled post. I will get reply back to your emails and messages shortly. Thanks for your kind understanding.

Mutter Paneer pulao recipe
  Preparation Time : 10 mins | Cooking Time : 20 Mins |Serves: 2
    Basmati rice  1/2 cup
    Paneer cubes   3/4 cup
   Green peas   1/4 cup
   Onion  1
   Tomato  1/2 
   Ginger a small piece
   Garlic  3 pods 
   Green chili 1   
   Cumin powder  1/2 tsp
   Coriander powder  1/2 tsp
   Garam masala 2 pinches
   Butter  3 tsp
   Oil  1 tsp
   Mint leaves  few
   Kasoori methi  a pinch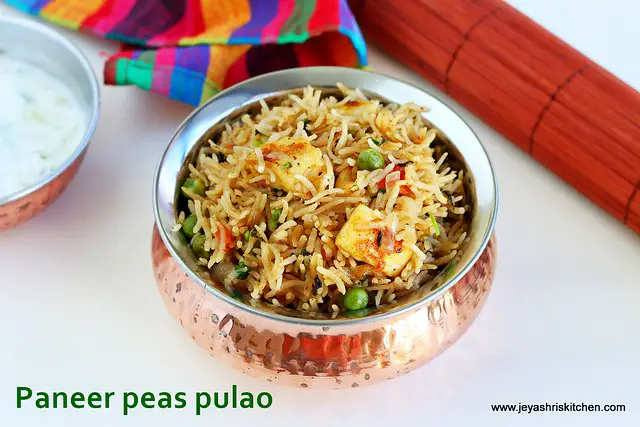 Method:
Grind the ginger garlic and chili into a paste. Finely shop the mint leaves, onions and tomato.
In a pan add oil and add the paneer cubes and saute it till golden brown. 
Soak this in hot water for 10 minutes. Mean while wash the basmati rice and soak it  in 3/4 cup water for 15 minutes.
Keeping paneer in water makes the paneer soft. 

In a pan | cooker add butter and add the onions. Saute till it becomes pink. Add the ginger garlic green chili paste to this and cook in a low flame.

Add the tomatoes and cook till they are mushy. Add the mint leaves to this.  Keep the flame low. 

Add the cumin powder, garam masala and coriander pwoder. Add salt to this. Cook for a minute and add green peas.

Add the soaked rice and squeeze the water from the paneer cubes and add them to the pan. 

Add the water to this and cover the cooker. The entire process can be made in the cooker, i just made it in the pan to make the pictures clear. 
Pressure cook till one whistle and keep the flame very low for 5 minutes and switch it off.

Fluff the rice with a fork. 
Easy and delicious paneer peas pulav is ready.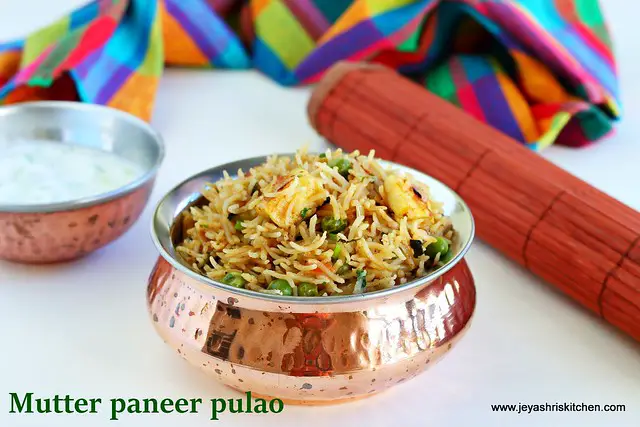 Notes:
You can skip the step of sauting the paneer and directly soak it in hot water.
Soaking in hot water makes the paneer soft. 
Even you can add the paneer in the last after opening the cooker.
Instead of green chili you can add red chili powder. In that case add while adding the cumin powder.
You can grind the tomatoes and add it, instead of chopping them.