Nan khatai or butter biscuits whatever the name we use, are totally delicious Indian cookies . I am a huge fan of these nan khatais and the we used to call this as bakery biscuits and after coming into this blogging world i came to know about this name. If you want to try out few baking goodies for this diwali and want to surprise your friends with some interesting diwali sweets then you can try out this Nan khatais. They turned out very well but the pictures didn't turn out as i expected. even you can involve your kids in making this Diwali sweet and they will feel more happy and a nice experience for them too. I bookmarked the recipe from Shabs cusine.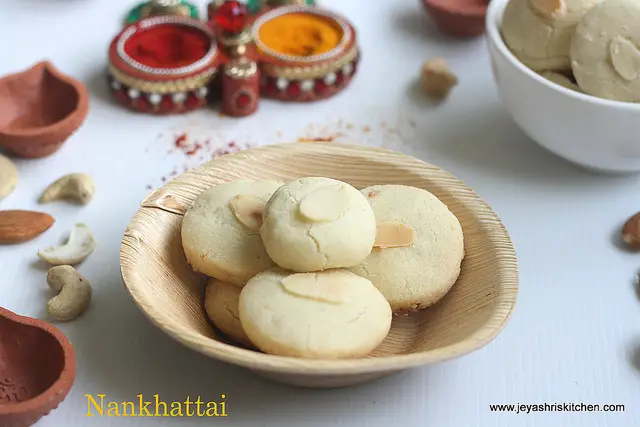 PREPARATION TIME : 20 MINUTES. COOKING TIME: 15 MINUTES MAKES:20-22 COOKIES
| | |
| --- | --- |
| ALL PURPOSE FLOUR | 1 CUP |
| GHEE(MELTED) | 1/2 CUP |
| SUGAR | 1/2 CUP |
| CARDAMOM | 1/4 TSP |
| BAKING SODA | 1/4 TSP |
| CASHEW NUTS | 2 TBLSP(FINELY CHOPPED) |
| BADAM| PISTA | FOR GARNISHING |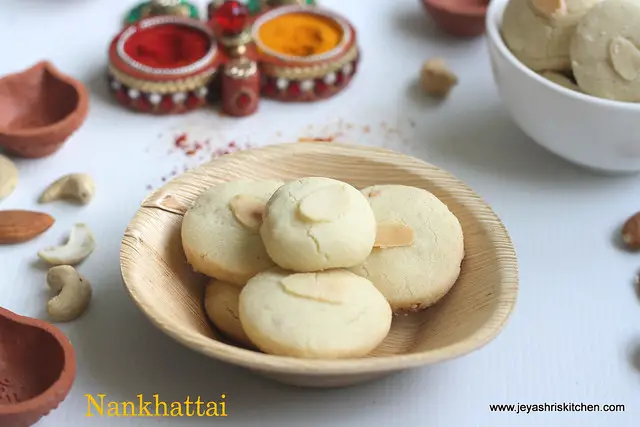 METHOD:
In a wide bowl add the flour,baking soda and cardamom and mix well. Add the  finely chopped cashew nuts to this and mix well.
In another bowl, powder the sugar and add the ghee to this and beat this well for 5 minutes till it becomes creamy.
Add this sugar and ghee mixture slowly to the flour and knead it into a smooth dough.
Leave the dough covered for 30 minutes.
Make small cookies and garnish with pista or almond in the center.
I used badam.
Pre heat the oven at 160 degree C for 5 minutes.
Arrange the cookies in the baking tray and bake for 10 to 12 minutes.
These cookies need not turn golden brown. Even if u feel they are soft when hot, after u completely cool them it will become crisp.
Cool them in a wire rack.
Be careful not to get it burnt. Even if you see cracks it is fine , no need to worry.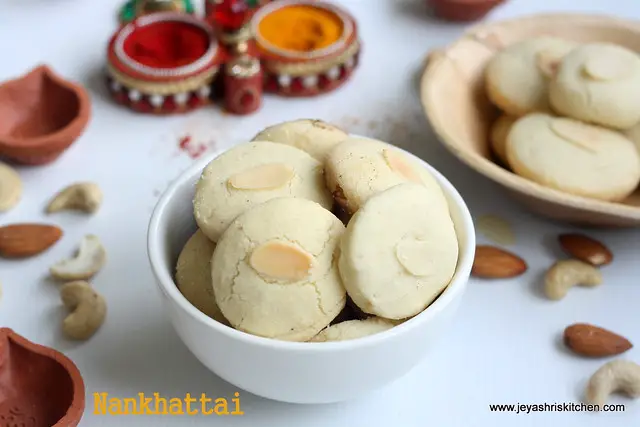 Even if you want to try out a cake for Diwali i have posted an Eggless Mawa(khoya) cake which i posted long back. Click the picture for recipe
These nan khatais melted in mouth and we all enjoyed it.