Nellikaai sadam | Gooseberry rice | nellikaai chitranna called as usirikaya pulihora, made usually during ugadi, Telugu New year. Telugu New year | Ugadi 2016 is on April 8 . This can be packed in lunch box too. This nellikaai rice can be made in a jiffy and it tasted very well. I have added coconut to the rice, If you do not like to add coconut feel free to skip it. Stay tuned for more interesting recipes coming up this week.

Nellikaai Sadam
Preparation Time : 10 mins | Cooking Time : 25 Mins |Serves: 3
Cooked rice 1 cup
Nellikaai | Gooseberry 6
Dry coconut or fresh coconut 1/4 cup
Green chili 4
Peanuts 2 tblsp
Oil 3 tsp
Mustard seeds 1/4 tsp
Channa dal 1/4 tsp
Urad dal 1/4 tsp
Curry leaves few
Salt as needed



Method:
Wash the gooseberries and chop them and discard the seed portion. No need to boil the gooseberry. Slit the green chili. Initially i took 2 green chilies and i thought it will be enough but later after tasting the rice i realised it is not enough. So add 4-5 green chilies and the sourness of the gooseberry will compensate that. You don't feel spicy.

Grind this chopped gooseberry and fresh coconut or dry coconut (i used dry coconut) coarsely. Pulse this twice in the mixie.

Cook the rice and spread it in a plate and keep it aside.
In a pan add oil and throw in mustard seeds, peanuts, chana dal, urad dal and green chili. In the picture you could see 2 green chili. But i added 2 more later.

When the dal turns golden brown add the coarsely ground gooseberry coconut mixture.
Add salt and turmeric powder. Cook this in a low flame till it turns nice colour.

Now add the cooked rice to this and mix well.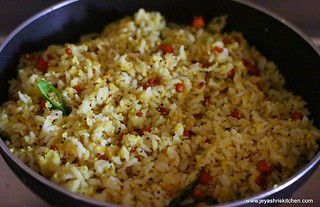 The colour was due to the lighting in my kitchen.
Gooseberry rice is ready . You can pack this for lunch or have this with vadams or aviyal for lunch.
Notes:
Ensure that the rice is grainy and not sticky.
Since the gooseberries are sour 4-5 green chilies should be perfect.
You can add cashew nuts also while tempering.
Grated carrots can be added in the last to make it more healthy.