Panchamirtham is a mix of banana and other dry fruits generally made as a prasadh | neivedhyam for many festivals like janmashtami, Ganesha chathurthi, navaratri or any other pooja we do at home. Even for house warming ceremony and ganapathi homam at home we do this panchamirtham. During our childhood days, we get regular supply of Pazhani panjamirtham from Palani. Also we get the same pazhani panchamirtham in thiruparankundram temple too. But i never liked that as do not like any jaggery based sweets. But now everything has changed. In my sister's house they make this during the time they visit their anscestoral temple. They make it there in the temple and offer as a neivedyam to the God. This recipe, my sister's brother in law passed on to me, the way he explained made me to try this immediately.  As janmashatmi | krishna jayanthi 2016 is on aug 25th, i am posting the this recipe of panchamirtham.  Check out the video of the recipe too.
Panchamirtham recipe
  Preparation Time : 15 mins | Cooking Time : Nil |Makes:  1 cup
         Ripe Banana*  1 
         Dates  3
         Raisins   1 tblsp
         Cashew nut  1 tblsp
         Sugar candy (kalkandu)   2 tblsp
         Fresh coconut   1 tblsp
         Honey   1 tblsp
         Naatu sakkarai or| Jaggery   1/4 cup
         Cardamom powder  a pinch
         Edible camphor  a small pinch
     * Use karpooravalli banana if you get at your place. I used the long variety banana.
        If the banana is small use 2 bananas.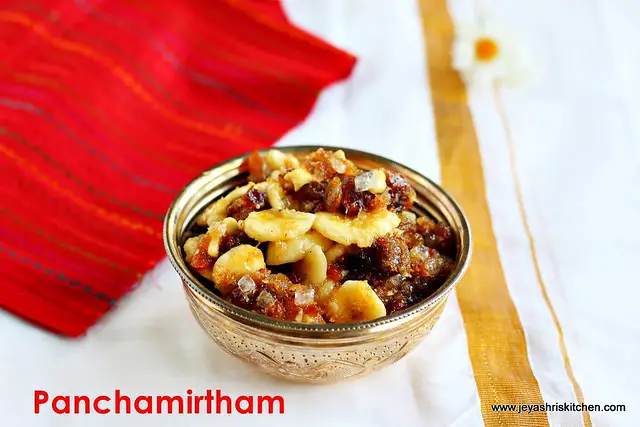 Method:
Chop the dates and cashew nuts into small. Slice the banana into roundels.
In a wide bowl add  the chopped cashew nuts and raisins.
Add the fresh coconut to this. If you don't get fresh coconut at your place add desiccated coconut or dry coconut (kopra).

Add the sugar candy (kalkandu) and add the jaggery or naatu sakkarai . You can use brown sugar too.

Add the honey, cardamom powder and edible camphor. I didn't add camphor as i didn't had at home.

Add chopped dates.
Gently mix this with spoon. Do nit mash this.

Add the sliced bananas to this.
Gently mix this up.

After 15 minutes mix well again. Panchamirtham is ready for neivedyam.
After neivedyam this can be stored in the refrigerator for a day.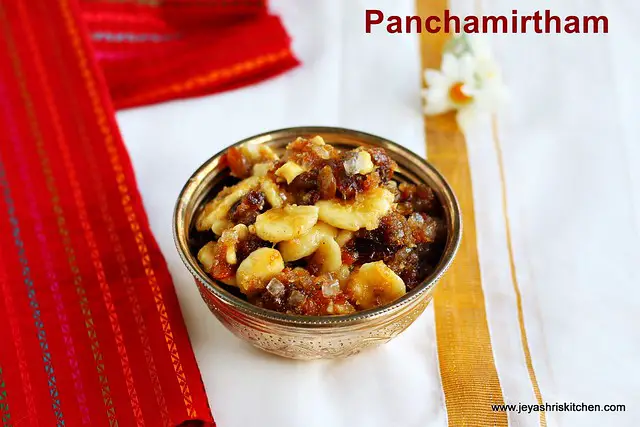 Notes:
If adding edible camphor add a tiny pinch else it will spoil the taste.
The panchamirtham was slightly sweeter for me, you can reduce the jaggery little if you want.