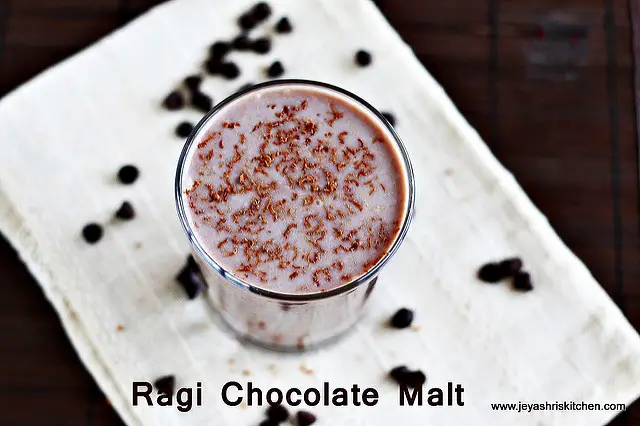 Ragi | Finger millet flour, i made puttu with that for this morning breakfast. First i thought, i will click pictures and post today but morning it was hectic i couldn't click. While i was serving ragi puttu for my hubby, Varsha asked me what is this. I said it is Ragi puttu and explained her the health benefits of ragi flour as a typical mom, and told her to try a spoon of it. I remember my mom making this keepai puttu during our childhood days and we used to look forward for this one. When she had a bite she told it was tasting as chocolate. Even when i first tasted ragi cookies i felt the same too. As a typical teenager and a perfect foodie, Varsha told me why don't you try Ragi chocolate milkshake with this. Amazed with her idea when i was browsing in google, i saw in Priya have  posted this ragi chocolate milkshake | Malt recipe. So i tried today ragi malt with chocolate chips. Let the kids enjoy this healthy and delicious milkshake in this summer.

RAGI CHOCOLATE MILKSHAKE
  Preparation Time : 5 mins | Cooking Time : 10 Mins |Serves: 2
    Ragi Flour | finger millet flour    2 tblsp
    Chocolate chips    1 tblsp
    Milk   3/4 cup
    Water   3/4 cup
    Sugar    To taste
    Chocolate shaving   few (optional)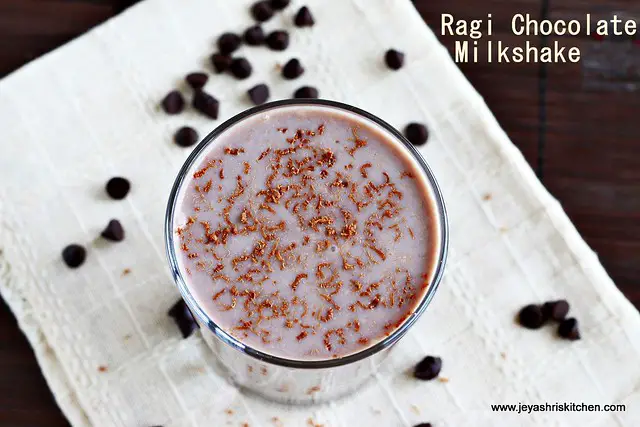 Method:
In a pan add the ragi flour and roast it in a low flame for 2 minutes. In a saucepan add this roasted flour and add water. Mix it well without any lumps.

Cook this in a low flame, stirring in between. When it starts thickening, add the chocolate chips. The chocolate chips will become melt soon and when it becomes melted switch off the flame.

Allow this to cool and add cold milk to this. You can add boiled and cooled milk too.
Mix this with a whisk and keep it refrigerated. If needed add sugar to your taste.

Serve chilled. Kids will hardly could able to find that ragi is involved in this.
While serving grate some chocolate in a small grater and serve.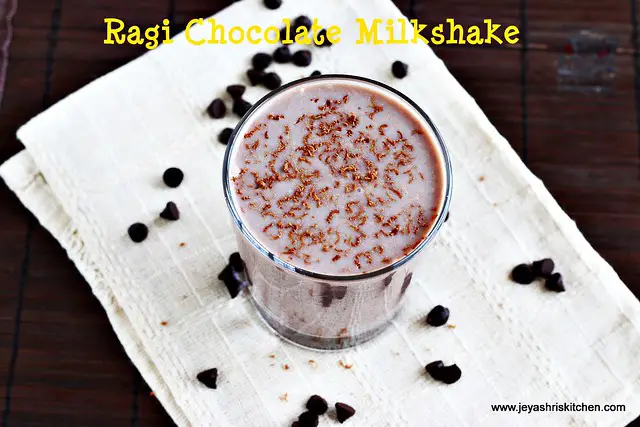 Notes:
Roasting flour is optional but will give a nice enhancement to the taste.
You can add vanilla ice cream or chocolate ice cream to this and pulse it once in a mixie to give a frothy milkshake  effect.
You can add vanilla essence to this .
You can add 1 tblsp of cocoa powder instead of choco chips.