Palak soup | spinach soup is an easy and healthy soup with spinach, garlic and milk as the main ingredients. Soups are always loved by everyone at home. Most of the days our dinner will be accompanied by a soup. This is a very simple soup made in one shot in a pressure cooker. You can replace spinach | palak with pumpkin, broccoli, carrot or any veggie of your choice.
Enjoy this rainy weather with a hot bowl of soup. Check out my other soup recipes.

Palak soup recipe
Preparation Time : 5 mins | Cooking Time : 20 Mins |Serves: 2-3
Palak | spianch 10-12 leaves
Garlic 5 pods
Butter or oil 1 tsp
Low fat milk 1/2 cup
Corn flour 1 tsp
Pepper to taste
Salt to taste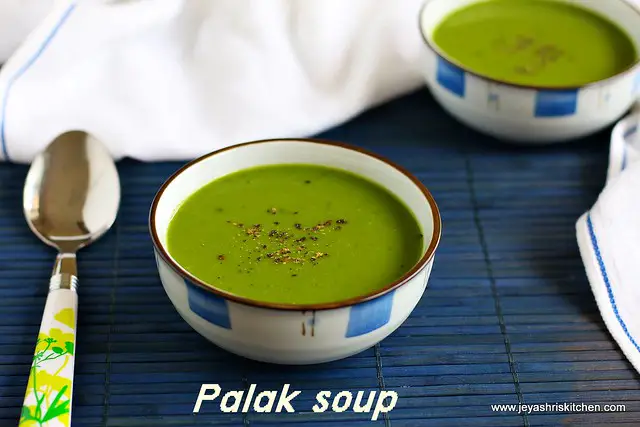 Method:
Wash the palak leaves and just take out the stem.
In a pressure cooker or a heavy bottomed pan add butter. I used my pressure cooker.
Add in the garlic pods and just saute for few seconds.
Add in the spinach leaves. No need to chop them (easy right!!)
Add milk and 1/2 cup of water.

Close the lid and cook for 2 whistles.

Open it and cool the mixture and grind this smoothly.
Mix the corn flour with 1 tbsp of water and add it to the soup. Actually if you feel the soup is thick do not add corn flour.
Instead to make it thicken you can add a piece of bottle gourd or white pumpkin(ash gourd) to the soup while cooking.
Add salt and pepper to taste.

Palak soup | spinach soup is ready to serve.
Serve hot.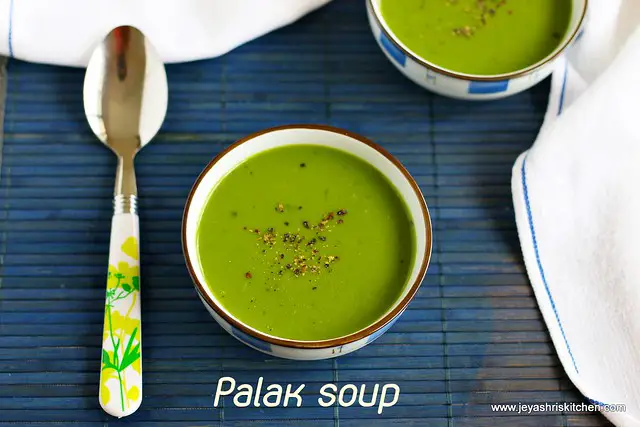 Notes:
To make the palak soup thicken, you can add 1 tblsp of moong dal (yellow or green) while cooking.
You can add 1 tblsp of fresh cream in the last to make it rich.