Brinjal stuffed with peanuts and other spices, perfect one to pair with rice and roti. This stuffed brinjals, i have never attempted before, i got tempted to try this after tasting this in my friend's place . Though i like brinjals very much, i usually make
brinjal curry
out of it or i make
Baingan Bhartha
, with the it. After tasting this at my friend's place i decided to try this on my own and i did, and here comes the recipe. It came out really very nice.This goes very well with
jowar roti.
Stuffed brinjal recipe
  Preparation Time : 20 mins | Cooking Time : 25 Mins |Serves: 4-5
     Eggplant|brinjal    1/2 kg
     Peanuts   4 tblsp
     Onion   1
     Red chili powder  1 tsp
     Coriander powder   1/2 tsp
     Garam masala  2 pinches
     Garlic  6-7 pods
     Oil   2 tblsp
     Mustard seeds   1/4 tsp
     Curry leaves   few
     Salt  as needed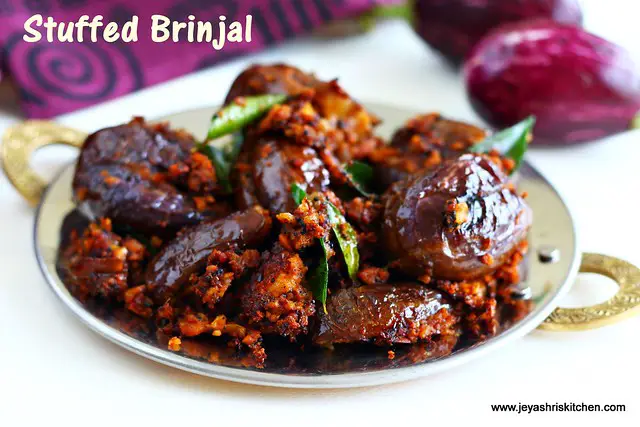 Method:
In a pan, add the peanuts and fry that till it turns brown, dont get it burnt.
Allow it to cool and take out the skin by rubbing it.I used roasted peanuts.
In a mixie, put the salt,coriander powder,redchilli powder,garam masala and garlic and add the peanuts to it.
Grind it coarsely.

Cut the onions into fine pieces.
Add the ground masala, to the onions and mix well.

Wash the brinjal and pat dry it. Take out the top portion.

Slit the brinjal and do not cut them fully. We need to stuff the filling into it. Stuff 1 tblsp of the filling into the slit eggplant.
Stuff the masala inside the brinjals carefully, till the tip of the brinjal.
Use it according to the size of the brinjal.

Heat a kadai, put oil in the kadai and add the mustard seeds.
When it splutters, add the stuffed brinjals carefully .
Close it with a vessel filled with water.
I used another kadai filled with water to close this.

Turn the brinjals in between carefully without breaking them.
When it is completely cooked remove from fire and serve hot with rice. Garnish with curry leaves.

A good accompaniment for sambar/Rasam
We tasted this with rotis, in my friend's place.