Somasi | Sweet somas| Karanji |Karjikkai recipe is prepared by my grandma for Diwali every year. Though it is bit elaborate process but it is worth trying. I still remember my paati makes this effortlessly, a full drum of sweet somas along with so many other Bakshanams for Deepavali. She is my biggest inspiration more than my mother, as i grew up seeing her doing all the work efficiently and with lots of passion too.
Many people make this karanji for Ganesha Chaturthi too.
Sweet Somas recipe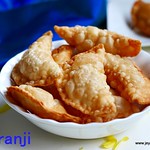 Preparation Time
: 30 mins+ resting time1 hour
|
Cooking Time
:25 Mins |
  Yields: 13-14
     For the outer cover
    Maida | all purpose flour    1/2 cup
    Sooji | Rava    2 tblsp
    Oil /ghee   2 tblsp
    Salt    a pinch
    Cooking soda   a pinch
   Water   to knead the dough

    For the filling
  Sugar   1/2 cup
  Dry coconut(koparai)*  1/2 cup
  Pottu kadalai | Chutney dal  1/4 cup
  Cardamom powder    a pinch
 Oil    for deep frying*you can also use freshly grated coconut, but roast it nicely in a dry pan before using.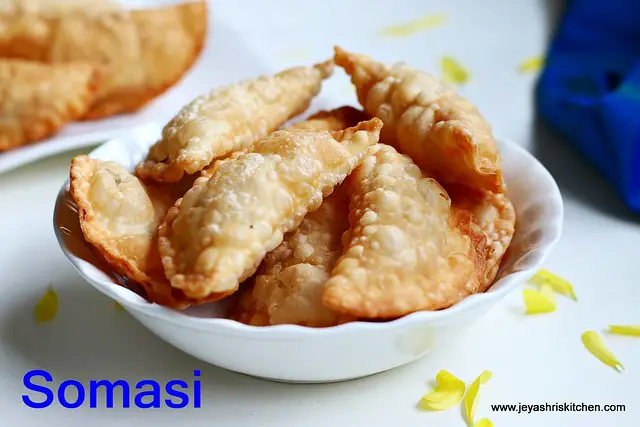 In a wide bowl add the flour, sooji(pulse the sooji) and add oil to this.

Make it like a bread crumbs with the tips of your fingers.

Add little water and make it into a tight dough.
Keep it aside covered for an hour.

For making the poornam roast the dry coconut for 5 mins and when it is cool, grind it along with pottukadalai and sugar. Add cardamom powder and mix pulse once.
This poornam can be stored in a clean container and can be had as it is. Actually poppy seeds will generally be added to this poornam. But since we don't get it here, i didn't use it .

Divide the dough into small lemon sized balls. Take one lemon sized ball and roll it very thin with a rolling pin. I just cut with a lid to make a even size round.
Apply little water to the edges . This is to make it seal tightly.

Place 2 tsp of poornam in the center and join the edges by folding it.
With a fork make patterns in the edges. Even you can use a somasi cutter to make the edges even.

Keep it covered till you finish the process for the entire somasis.
Heat oil for deep frying and when the oil is hot put the folded somasi in batches and fry till golden brown on both sides.

Drain in a kitchen towel .
Repeat this for all the somasis. Store it in a air tight container.

It stays good for more than 10 days.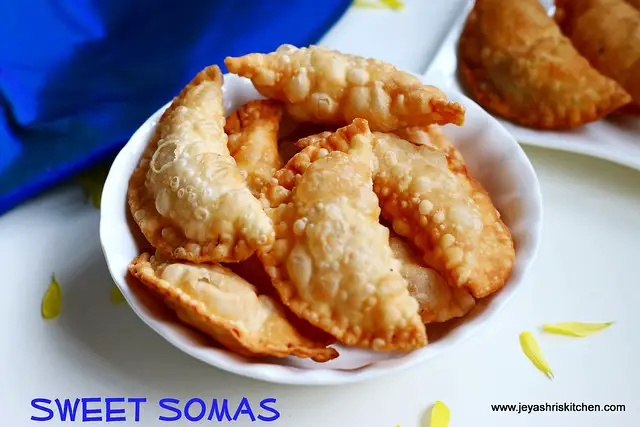 Notes:
While rolling the dough ensure let it be thin, else the somas will not be crispy.
Make the edges sealed properly, else it may open up in the oil while frying.
Let the dough be stiff.
You can have the left over poornam as it is or my mom have this with chapathi or dosa too.
You can add hot ghee to the poornam and make urundais too.