Chutney Without  coconut – Ulutham paruppu chutney
 Urad dal chutney is a simple and tasty made with urad dal, red chili, onion, and garlic as the main ingredients, and it serves as a perfect side dish for idli, dosa, or
kuzhi paniyaram
. The tamarind is added to balance the spiciness of the red chili. Check out my other
chutney | side dish for idli dosa recipes.
Urad dal chutney recipe
  Preparation Time : 15 mins | Cooking Time : 15 Mins |Serves: 3-4
     Urad dal   1/4 cup
     Red chili    4
     Tamarind   a small piece
     Onion   1
     Garlic   1 clove (optional)
     Mustard seeds  1/4 tsp
     Asafoetida   2 pinches
     Oil    3 tsp
     Salt   as needed
     Curry leaves  few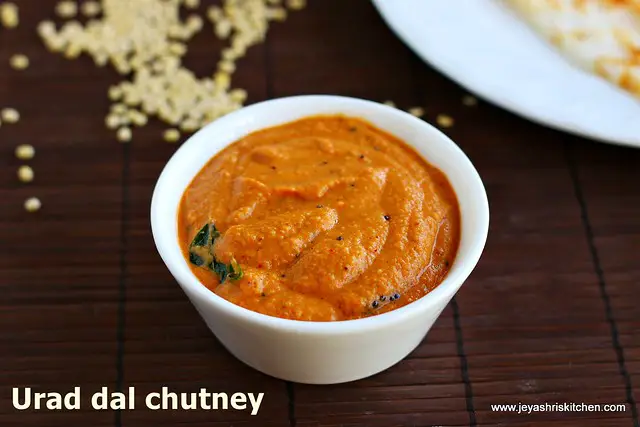 Method:
In a pan add 2 tsp of oil and add the urad dal, red chili, and tamarind. Add the asafoetida along with this. Saute till golden brown.  

 

Keep it aside and roughly chop the onions and peel the skin of the garlic.
Cook in the same pan in a low flame till the onions turn brown.

Allow all the roasted items to cool completely. Put this in a mixie along with salt.

Grind this into a smooth paste by adding water as needed to get the chutney consistency.
Temper with mustard seeds and curry leaves and add it to the chutney.

Chutney is ready to serve with idli or dosa or kuzhipaniyaram.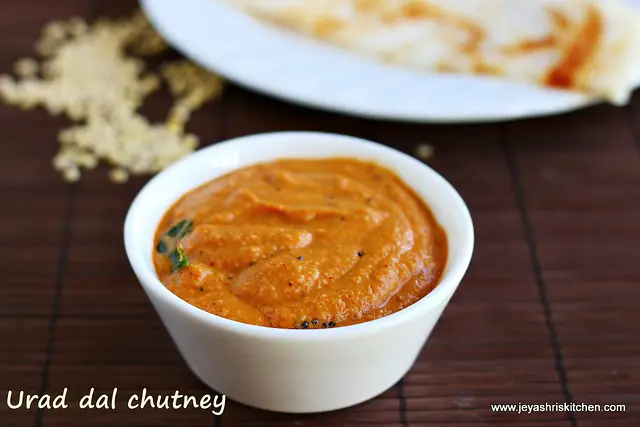 Notes:
If you want you can add little coconut to the chutney while grinding.
You can skip the garlic too if you do not eat garlic.
Urad dal chutney pairs well with idli, dosa and chapati too.