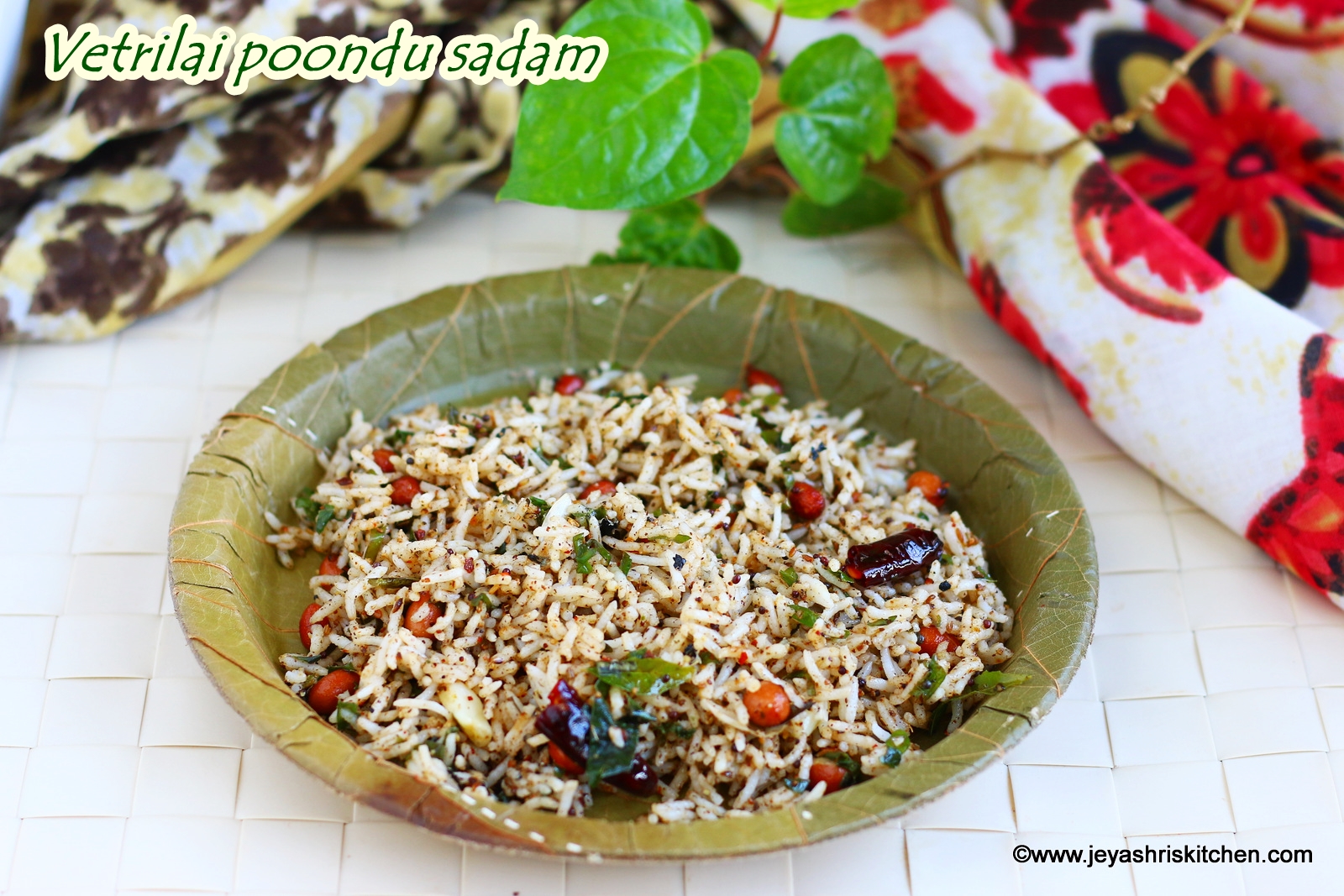 Vetrilai poondu sadam| betel leaves rice with Garlic, a flavourful and healthy rice variety, made using betel leaves| vethalai, garlic and other aromatic Indian spices. This is a special variety of rice in Kongu region of Tamilnadu. Commonly called as vethalai sadam, it aids in digestion and also the best way of using Vethalai after the festival season. I have heard about this popular kongu style variety rice a lot, and finally tried it today. Few days back when i posted Paan ladoo recipe, one of my good friend told me about this vetrilai poondu sadam. I finally tried today and completely enjoyed every bite of this rice. The rice turned out so aromatic and flavourful, a must try one after a heavy dose of festival food for the past 10 days. If you are looking for some other recipes using vethalai | betel leaves, do check out my Vethalai rasam, paan shots, paan ladoo, paan ice cream and sweet beeda. I used basmati rice for making this recipe, but traditionally Seeraga samba rice is used to make Vetrilai poondu sadam.
[penci_recipe]
Wash and cook the basmati rice in 1/2 cup of water. Add little salt and a drop of oil while cooking. Pressure cook till 3 whistles.
Once done, spread the cooked rice in a plate and keep it aside.
Let's dry roast the masala now.
In a pan add 1 tsp fennel seeds, 1 tsp pepper, 1 red chilli, 1 clove, 1 tsp sesame seeds(i used black sesame) and kalpassi.
Dry roast this for few minutes in a low flame.
Once the sesame seeds starts popping up, switch off the flame and add 1/2 tsp cumin seeds and curry leaves.

Allow this to cool completely and powder this. If it is slightly coarse, fine.
In a pan add oil and add in 1/4 tsp mustard seeds, 1 red chili and 1 tblsp peanuts and curry leaves.
Saute till the peanuts are cooked.
Peel the garlic and gently crush them, just one press using a mortar pestle is fine.
Add this to the oil and saute for a minute.

Chop 4 medium sized betel leaves into small pieces.
Add this to the pan.
Saute for 2 minutes. Add little salt now.

Add in the cooked rice.
Add the ground masala powder. It came around 4 tsp, i used up all.
Mix evenly and gently without breaking the rice.

Smear 1/2 tsp ghee on the top and mix.
Vetrilai poondu sadam is ready.
Serve this with appalam or any raita.