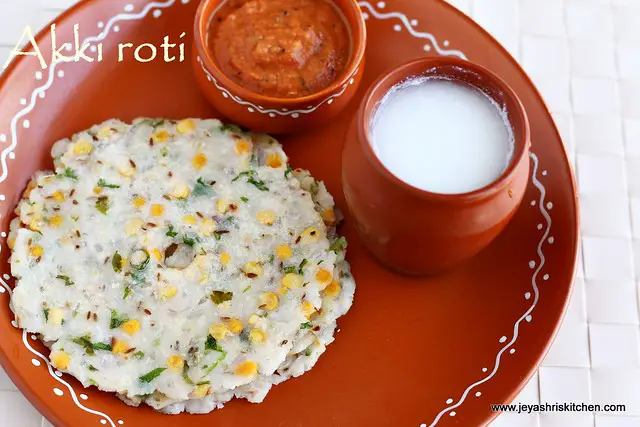 Akki roti is a traditional Karnataka dish, generally made for breakfast or dinner. When you are running out of idli or dosa batter you can make this and a tomato kara chutney is a perfect side dish for this akki roti . As few readers requested for this recipe from long back , i thought i will post this recipe of rice roti. A friend of mine told me over phone the way she makes akki roti and i have tried the same way as she told. Enjoy this akki roti and do mail to me as how it turns out.
Akki roti
  Preparation Time : 10 mins | Cooking Time : 20 Mins |Makes: 4
    Rice flour       1/2 cup
    Onion     1
    Channa dal | kadalai paruppu   1 tblsp
    Salt    as needed
    Green chili    1 
    Cumin seeds     1/4   tsp
    Coriander leaves    few
    Warm water    to knead the dough
    Coconut (scrapped)    2 tblsp
    Coconut oil       2-3 tsp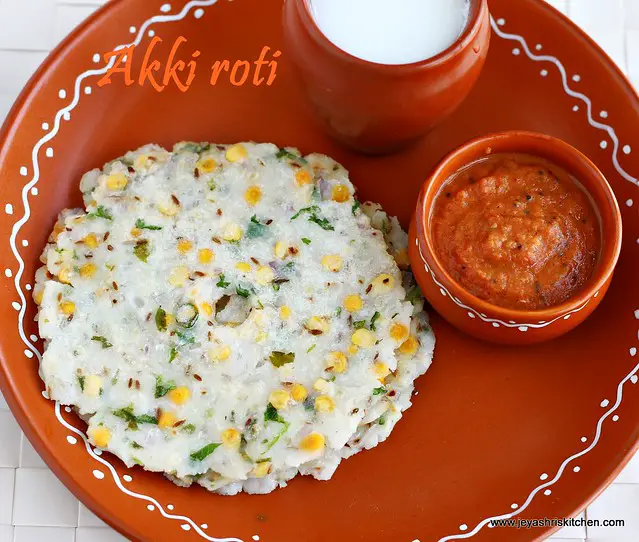 Method:
Soak the chana dal for 15 minutes. Chop the onions,green chili and coriander leaves finely.
In a wide bowl add the rice flour, finely chopped onions,
Drain the water and add the soaked chana dal.
Add salt, cumin seeds, coconut (if using) ,coriander leaves and green chili.
Add warm water little by little to make a smooth dough. Do not add more water then it will become a batter.

Divide the dough into big lemon sized equal balls.
In a butter paper or banana leaf , grease with few drops of oil and place one ball of dough .
Pat it with greased fingers into a medium thin adai. Put a hole in the center.
While patting the dough shouldn't get cracks.

Heat a tawa and slowly place the butter paper on the tawa and take the wrapper out carefully.

Cook on both sides using coconut oil and serve immediately.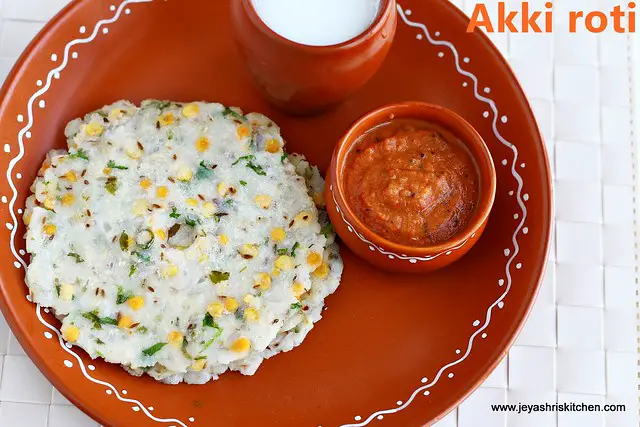 Notes:
Always use warm water for kneading the dough.
Traditional karnataka people add dill leaves or avarakelu in the dough.
Always ensure the pan in medium flame. Else the rotis will either not get cooked or will be too hard.
You can add grated carrots to the dough to make it bit healthy.
If you feel green chillies are too hot you can add red chili powder.