Masala uttapam recipe, is a simple kids friendly tiffin or lunch box recipe. Not even kids even adults also love this very much. Actually i wanted to post 5 taste uttapam, whci we get in restaurants, but this masala uttapam is a long pending for me. So will post the 5 taste uttappam later for sure. I first tasted this in my friend's house during last navaratri. She made this for all guests and it stayed super soft even after 3 hours. From that day i wanted to buy a mini uttapam pan for me. When i was talking to her about the availabilily of the pan in India, i came to know it is quite common to find this in India now a days. Even i ordered online for my mom 2 months back. My friend's mom when she visited here 2 months after Navaratri gifted me this mini uttapam pan. I was so overwhelmed on seeing that. I made the masala uttapams many times after that but as a South indian i always make this for breakfast or dinner, i never had a chance to click the picture. When my mom was here last week, i made this for her and after going back to India she made this yesterday at home. She told me i searched the recipe of mini masala uttapam in jeyashri's kitchen but it was not there. I said i will post this for sure amma and finally came up with the post today.
Masala Uttapam
Preparation Time : 10 mins | Cooking Time : 15 Mins |Makes: 5
Idli Batter 1/2 cup
Carrot 1 small
Capsicum (bell pepper) little
Sesame oil 2 tblsp
Mustard seeds 1/4 tsp
Salt a pinch
Onion 1 (optional)
Red chili powder 1 tsp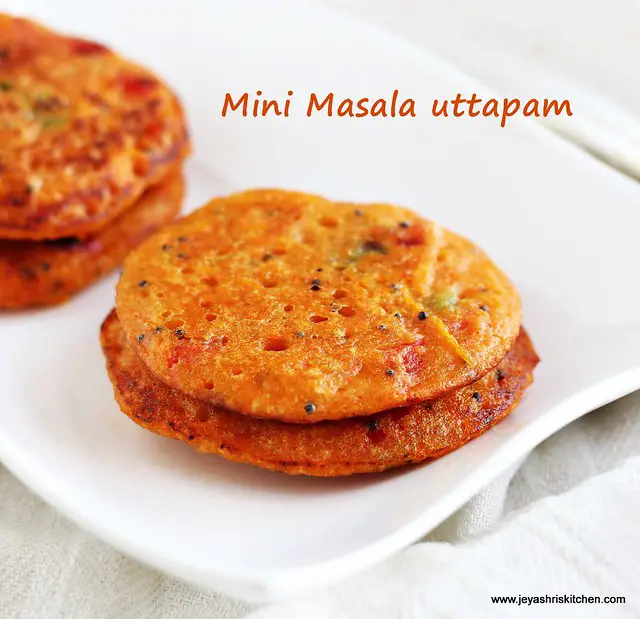 Method:
In a wide bowl add the batter. Add grated carrot, chopped capsicum(i used red and green color), red chili powder, salt . In little oil temper with mustard seeds and add it to the batter. Add the sesame oil to the batter and mix well. Sesame oil makes the uttapam soft even after it is cool. So add the amount mentioned in the recipe. If needed add coriander leaves or curry leaves.

Heat the uttapam pan and spoon in the batter in that and add 2 drops of oil. Cook on both sides and serve hot .

This uttapam stays soft even after 2 hours. So you can easily pack for lunch box for kids.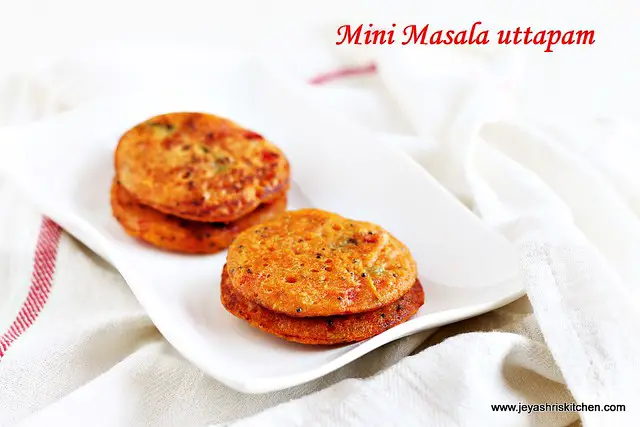 Notes:
If adding onions you can saute this for a 2 minutes and also add into the batter.
Adding sesame oil to the batter makes the uttapams to stay soft even after 2 hours.
Let the batter be thick as idli batter.
You can add finely grated cabbage also to the batter.