Last week during the kids Sport day event at school, when i met Raji , she told me that she will do a guest post for me during sometime next week as i will be busy moving and settling down. That's indeed a big surprise for me. Without any fuss,  immediately i said "okay" .
Actually it was quite difficult for both of us to figure out the recipe but finally we ended up in  Aloo bonda recipe, also called as Urulai kizhanghu bonda in Tamil.
Raji of
Rak's Kitchen
doesn't need much introduction. But still if you don't know about  her blog just click
HERE
to know more about her blog. She has a wonderful space with detailed recipes and gorgeous pictures too.  Thank you so much Raji for this beautiful post . I will try this Aloo bonda soon at home.
Over to Raji now:
———————————————————————————————————————————
Aloo bonda/ urulaikizhangu bonda is a classic tea/ coffee time snack and can be made easily. It is sure a kids favourite as it has potato stuffed inside. I wanted to try this for long time, made only once before. But somehow, I haven't made it, that often. Jeyashri asked me to do guest post last December itself, but I didn't promised her to do one as I myself do last minute posts at my blog. Now since she was busy shifting her home, I thought of doing a guest post and fill her blog by a post
. Though I tried this after years, I was happy with the result, as I was bit worried how it would turn out. So here"s the snack, that would be a family pleasing snack.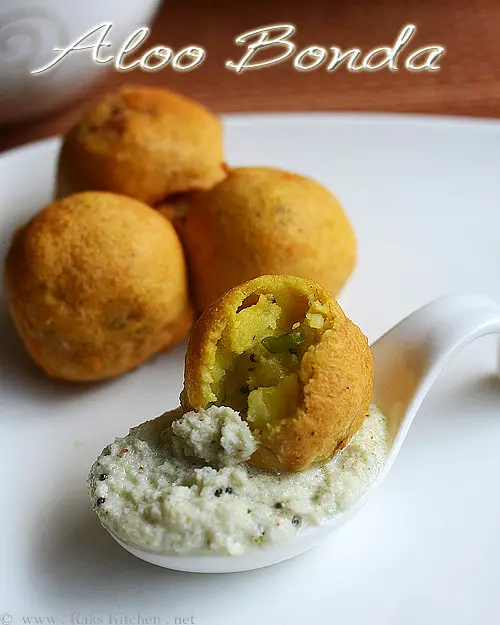 Aloo Bonda Recipe
| | |
| --- | --- |
|    Cooking time : 30 mins | Makes 12 bondas |
Ingredients
| | |
| --- | --- |
| Potato | 3 |
| Onion | 1 |
| Green chilli | 2 |
| Ginger, finely chopped | 1 tsp |
| Turmeric | 1/8 tsp |
| Salt | As needed |
To Temper
| | |
| --- | --- |
| Oil | 2 tsp |
| Mustard | 3/4 tsp |
| Urad dal | 1 tsp |
| Curry leaves | 1 sprig |
For the batter
| | |
| --- | --- |
| Besan flour | 1/2 cup |
| Rice flour | 1/4 cup |
| Ghee | 1 tsp |
| Pepper (black) powder | 1/2 tsp |
| Asafoetida | 3 pinches |
| Turmeric | 2 pinches |
| Cooking soda | 1 pinch |
| Salt | As needed |
Method
Pressure cook potatoes for 3 whistles, peel off the skin once done and mash it well. Keep aside. In a kadai/ pan, season with mustard urad dal and curry leaves. Add finely chopped ginger, green chilli and onion. Fry till transparent without changing colour. Add turmeric and salt.
Add cooked, mashed potatoes and mix well so that the turmeric blends evenly. Stir for 2 minutes an drizzle a tsp of oil. Transfer to a plate and cool down. Make 12 equal sized balls and set aside.
In a mixing bow, mix everything under 'For the batter' table with little water to make a batter, it should be thick enough to coat the potato balls.
Heat oil in a kadai and deep fry the potato balls dipped to coat it well in the besan batter mix. Turn over in a minute to cook evenly on both sides. Cook in medium flame.
When its evenly golden fried, drain it over kitchen tissue.
Notes
The stuffing part can be made to suit your taste buds. You can vary the potato masala by adding mint leaves, red chilli powder etc. ;
The batter Should be thick, otherwise, the look of the bonda will not be round and smooth.
You can replace pepper powder with red chilli powder as will in the batter.
Ghee ads a wonderful flavour along with pepper and adds crispiness too.
Enjoy hot with coconut chutney (getti chutney), as a tea/ coffee time snack.