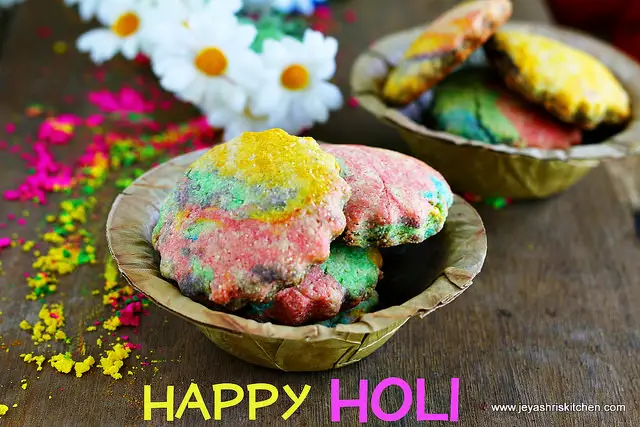 Nan khatai is a Indian style short bread cookies. I have already posted the recipe of Nan khatai , also posted a version of saffron laced nankhatais too. Though i already posted 2 sweet recipes for holi, since today is holi festival i thought i will post some thing colourful. Suddenly thought of this atta nan khatai which i have bookmarked from Divya's space long back. I made this and added few drops of food colour to the dough to make it colourful.Wish you all a very Happy Holi.
The original recipe used only whole wheat flour for making nakhattai.

Atta Nan Khatai
  Preparation Time : 10 mins | Cooking Time : 15 Mins |Makes: 8 large cookies
     Whole wheat flour     1/2 cup
      All purpose flour     1/4 cup
      Semolina | rava | sooji   1/4 cup
      Melted Ghee      1/4 cup
      Powdered sugar    1/4 cup
      Baking soda    a pinch
      Food colours – any 5 colors of your choice – a pinch-2-3 drops
      Cardamom powder     a pinch   
      Milk    1-2 tblsp  (if needed)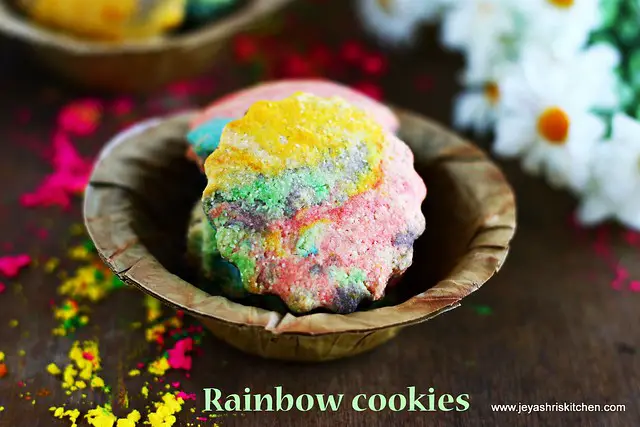 Method:
In a wide bowl, add the whole wheat flour, maida, sooji, powdered sugar, cardamom and baking soda.
If the rava is not very fine, just powder it once in a mixer.
Add the melted ghee to this.

Mix this into a smooth dough. sprinkle little milk if needed.
Divide the dough into 5 equal parts and sprinkle the food colour to each of the dough and mix them evenly.

Now bring all dough together and make a big ball. Knead it again well and make a ball.
Take a small potion of this and make desired shapes. I did with a cookie cutter.

Preheat the oven at 160 degrees. Arrange the nan khattais in a greased tray and bake it for 15 to 20 minutes .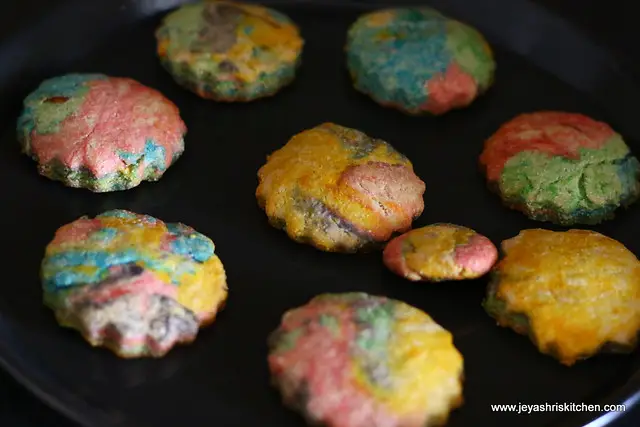 Nan khatais are ready. Store this in a airtight box and enjoy the cookies.
Notes:
If it is slightly soft when soft after taking out from the oven, do not worry, it will become crispy when it is completely cool.
But if you still feel it is soft after cooling down baking it for 5 more minutes.