Kesar Badam peda is a quick and easy sweet which can be made with simple available ingredients . Dhoodh peda  can be ready in 15 minutes. As holi is celebrated today, i wish all my readers a very Happy hoil. Even for all festivals like Diwali, Jamashtami also you can make this easy dhoodh peda.
Kesar badam peda
  Preparation Time : 15 mins | Cooking Time : 15 Mins |Makes: 13 mini pedas
     Almond | badam   1/4 cup
     Saffron      a pinch
     Sugar       2 tblsp
     Milk       3 tblsp
     Milk powder    1/2 cup
     Ghee     1/2 tsp + little to grease hands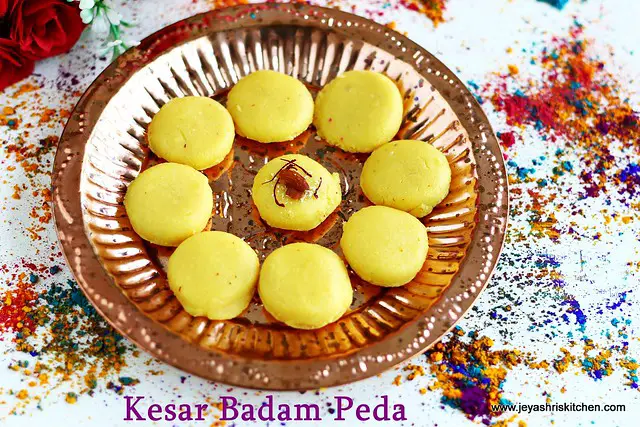 Method:
Soak almonds in hot water for 15 minutes and take out the skin.
Soak saffron in luke warm milk.
Grind this almonds and sugar into a fine paste.
Grind this into a smooth paste using saffron milk.

In a heavy bottomed pan add the badam mixture, ghee and milk powder.
Keep in a medium low flame and start stirring this continuously.
Stir this till the whole mixture comes to a whole mass.

Allow this to cool. With hands slightly greased with hands make the whole mass into a smooth dough.
Make pedas of your desired size. You can use cookie cutter too to shape them. Roll them into a chapati and cut them in a cookie cutter.

Kesar badam peda are ready to serve. This can be stored in the room temperature for a day.
Can be stored in the refrigerator for 3-4 days.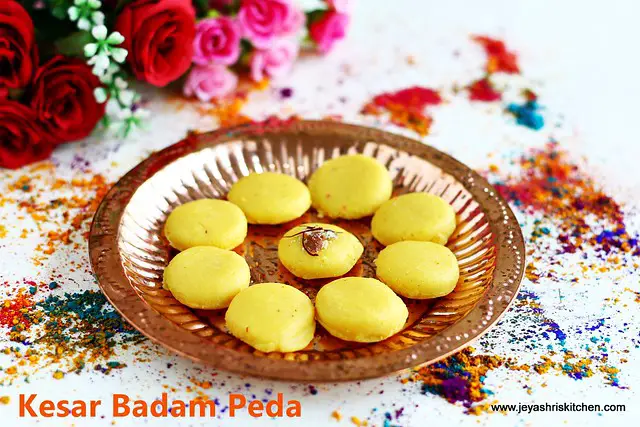 Notes:
The entire process can be done in microwave too. Stir in very frequent intervals.
You can garnish with coarsely chopped Badam or  Milk masala.
If the final mass is bit dry while making pedas just sprinkle few drops of milk and knead it without any cracks. Do not add more, it will lessen the shelf life.
If you feel it is slightly sticky add 1 tblsp of milk powder and microwave it for a minute or cook it in a pan.