Avakkai mango pickle , the one of the most favorite dish i love to make. I learnt this during my early days of marriage from my athai(aunt) . She is an expert in doing this and she used to send big bottles of pickles to me after i got married. She was staying close to my in-laws place. I always wanted to learn the recipe from her and when i asked her she beautifully explained me the procedure. The next year she sent me raw mangoes and i made it according to her instructions. It came out extremely well. After coming to singapore, i never put this avakkai pickle and suddenly 2 weeks back i thought i should make this. I bought mango from little india, but here we don't get it cut with the seed intact. In chennai, they will cut and give.
Followed my athai's recipe and it turned out very well. Sharing the recipe of avakkai pickle today.
Ingredients

  Preparation Time
: 20
 mins
|
Cooking Time
: Nil |
  Yields
: 4 cups
     Raw mango    3 (small size) [ 5 cups of cubed cut mangoes]
    Red chilli powder   3/4 cup
    Salt  1/4 cup
    Mustard seeds   1/2 cup
   Turmeric powder   1/2 cup
   Fenugreek seeds (vendayam)   2 tblsp
   Sesame oil     1 cup
   Asafoetida   1 tsp
  Kabuli channa    1/4 cup (optional)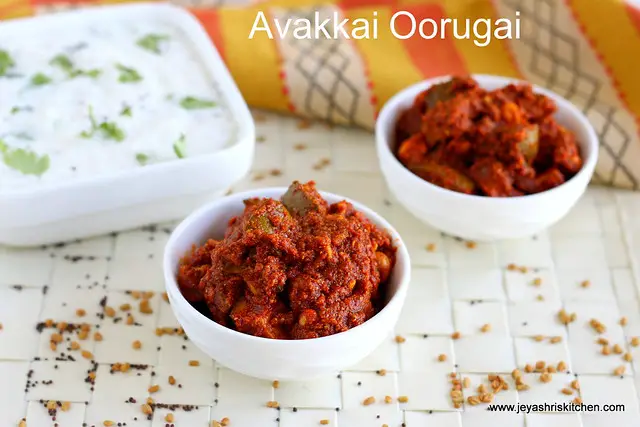 Method:
 Wash and cut the mango with the skin in tact, if possible. I couldn't do it at home. So i cut without the seeds.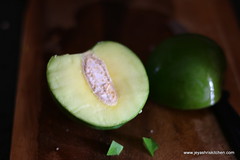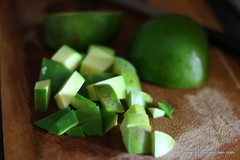 Soak them in water for few minutes ( just to remove impurities if it is cut and bought from store)
Drain the water and pat dry the cut mangoes.
Dry them in a cotton cloth (preferably white, so that any color will not stick to the mango) inside the house in a airy place for 2 days.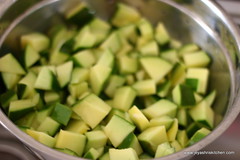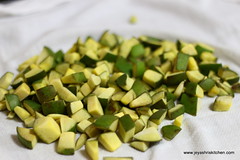 In a big glass |ceramic bowl , add the dried mangoes
Keep the mustard seeds in hot sun for 3-4 hours and grind this into fine powder.
If you don't get sunlight, heat a pan for 2 minutes and switch off the flame.
Put the mustard seeds and let this sit in the hot pan for few minutes.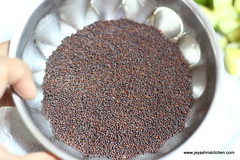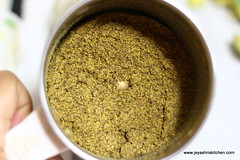 If adding kabuli channa, dry it nicely and add to the bowl. Add the mangoes, mustard powder,salt
Add turmeric powder, asafoetida and fenugreek seeds(vendayam).
Add sesame oil to this mixture.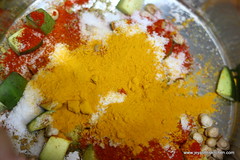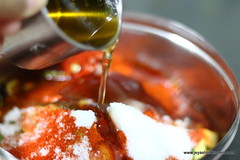 Mix this nicely with dry clean spoon.
let this sit for 3-4 days without touching it. Keep it in a clean dry place.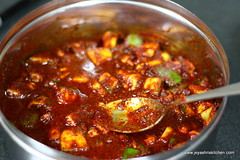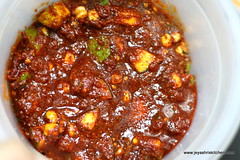 After 4 days the oil will start floating on the top. Mix this well nicely and you can start using the avakkai pickle .
Store this in a clean dry place and use clean dry spoon. After a month you can transfer it a jar and keep in the refrigerator for later use.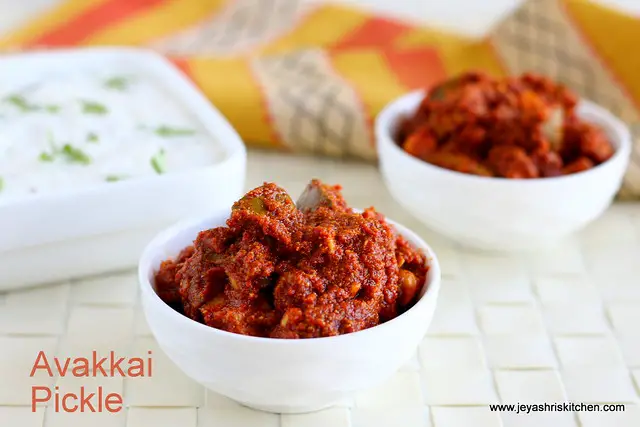 Note:
Add salt and red chilli powder according to the sourness of the mango.
If mangoes are sour follow this proportion. Else adjust the red chilli powder and salt accordingly.
Use nice red variety of chilli which gives nice colour yet not too hot.