Baked potato recipe with video
Baked potato loaded with cheese and beans, is a classic recipe made with potato. I was introduced to this jacket potato by my brother in law, whom we visited this June. He was casually telling us that he will make make jacket potatoes for her daughter and it is very simple to make also. Honestly, i haven't heard the name before and was fascinated by it and asked him for the recipe. He laughed out loud and told me it is simple microwaved potato and served with butter and cheese. Also he told there are many other ways to eat that, but he always makes in this simple way. He also made it for us on the last day of our trip and i totally enjoyed it and the kids too loved it very much. It was exactly a month now and finally i am here with my own version of baked potato with cheese. See the notes section for few variations to this recipe. This can be done in microwave too. Read the full post and try it, let me know your feedback. A perfect kids friendly baked potato recipe

  Preparation Time : 10 mins | Baking Time : 1 hour |Serves: 2
     Potato    2
     Olive oil   1 tsp
     Salt  as needed
     Cooked bean   3 tblsp
     Capsicum    little
     Mixed herbs   2 pinches
     Chili flakes   2 pinches
     Grated cheese   2-4 tblsp
     Butter   1 tsp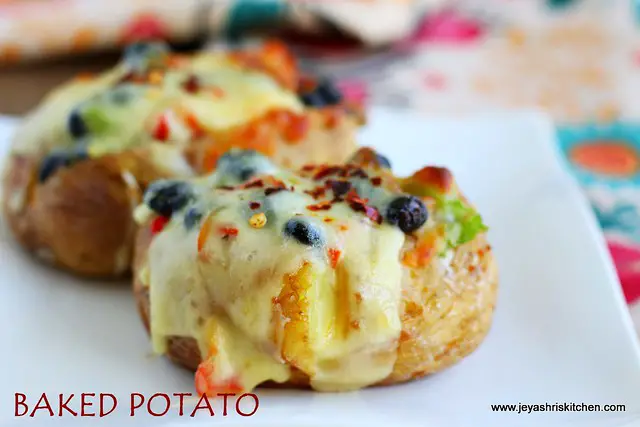 Method:
Wash the potatoes nicely and rub this in a kitchen towel. Do not peel the skin. If needed soak the potato in water for 10 minutes to take out the extra dirt if any.
Rub the potatoes nicely with olive oil on all sides.

Prick the potatoes with fork on all sides. Rub salt on the potatoes.

Grease a baking tray and bake it for an hour or till the skin turns brown and crispy and inside becomes soft. Bake at 160 degrees.
If you are running out of time, microwave the potato for 7-9 minutes till the potatoes becomes soft.
Baking only gives crispy outer layer.

Slit the potatoes vertically and horizontally. Do not cut, just slit.

Place 1 tsp of butter into each potato.
Mix the cooked beans (i used black bean), capsicum, salt , mixed herbs and red chili flakes.

Spoon it into the potatoes. Carefully stuff it inside. Though it comes out little its ok.

Add grated cheese on the top .
Bake it till the cheese melts.

If doing in microwave, keep it in the microwave oven for few minutes till the cheese melts.
Take it out and serve hot. Sprinkle some red chili flakes on this.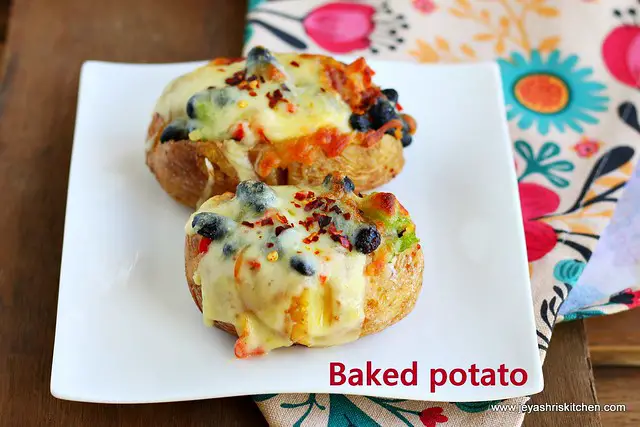 Notes:
You can do the entire process in microwave oven too.
Baked potato gives crispiness and tastes more yum.
I used black beans, you can add red kidney bean or sweet corn or even white peas too. Even canned baked beans can also be used.
Olives, pasta sauce , broccoli florets can also be added. If adding broccoli put them in hot salt water for 2 minutes and add. Finely chop the broccoli for the jacket potatoes.
Or just as a simple version you can bake or microwave it and add rub it with salted butter and stuff with some cheese cube and serve hot.
Pricking he potatoes with fork is a must as the potatoes may explode.