Masala dal baati | dal baati is an authentic and popular rajasthani recipe. I have tasted this in Rajdhani restaurant in chennai few times and tried at home once too. But i am not so satisfied with the results and so I  didn't post  that time. Recently i happened to try this at my friend's place, who has come from Chennai, to stay with her daughter who is studying here. they are basically from Rajasthan and settled in Chennai. The dal baati tasted awesome and she served me this Masala dal baati and also panner stuffed dal baati. Along with that she served me a delicious aamras too, which i have posted few months back. Though i asked her the recipe, somehow i forgot the details of the recipe. So again messaged her for that. She patiently explained my queries and today i tried it at home. It turned out very well. Traditionally split green gram dal is added but if you want you can replace with yellow moong dal or toor dal or mix of both. Check out a similar Dal dhokli recipe

Masala Dal baati recipe
  Preparation Time : 15 mins | Cooking Time : 20 Mins + baking time  35 minutes|Serves: 3
     For dal
  Split moong dal    1/4 cup
  Channa dal  1 tblsp
  Ghee  2 tsp  + 2 tsp (for serving)
  Turmeric powder   1/4 tsp
  Garlic  2 pods
  Red chili powder   1/2 tsp 
  Red chili   2
  Salt  as needed
For potato stuffing
   Potato   1 small
   Ginger  a small piece
   Garlic   2 pods
   Green chili  1
   Salt  as needed
   Asafoetida  a pinch
  Coriander powder   1/2 tsp
  Cumin powder | jeera powder  1/4 tsp
  Amchoor powder   2 pinches
For baati
   Atta | whole wheat flour   3/4 cup
   Ajwain| omam   a pinch
   Salt   as needed
   Ghee   2 tsp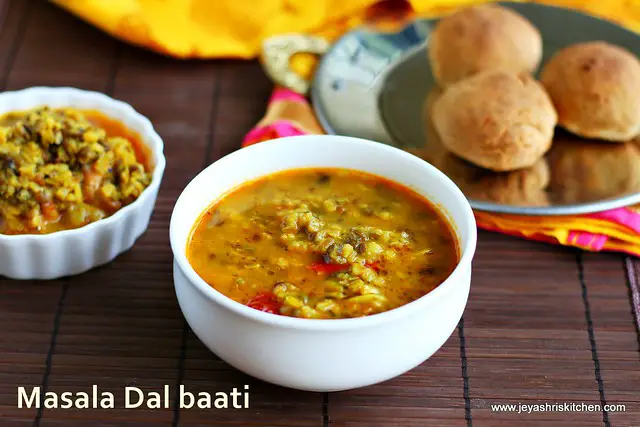 Method:
Wash and cook the dal with enough water, in a pressure cooker.

In a bowl add atta, ghee, ajwain and salt. Mix well and add water little by little to make it a stiff dough.

Cover it and keep it aside for 10 minutes.
Boil and mash the potato.
Grind the ginger, garlic and green chili into a paste.
In a bowl add the mashed potato, ground paste, cumin powder, coriander powder, salt, asafoetida and amchoor powder.
Mix well evenly.

Make equal big lemon sized balls of the dough.
Using your hands make a dent in the middle for stuffing the potato. If you are not making any stuffing, just make the dough into balls and continue with the baking process.
Stuff little potato mixture into the dent.

Close it carefully and make it like a ball. the same procedure how we do for aloo paratha.

Grease a baking tray and bake in a preheated(5 minutes) oven at 160 degrees for 45 minutes or till the top portion becomes golden brown. Mine got over by 35 minutes.
Brush it with ghee before you put it into the oven.

While it is getting baked, let's keep the dal ready. Add ghee in a pan. Slice the garlic into thin long pieces.
Add turmeric powder, red chili powder, salt, broken red chili and garlic to the pan.
Keep the flame low and do not get it burnt. Add the cooked dal to this and add 1 cup of water.

Boil this for 5-7 minutes and switch off the flame.

Dal is ready and baati is also ready. Let's assemble  the dal baati.
Break the baati with your hands and add it in a bowl.
Pour hot dal on this and spoon in the ghee .
Serve immediately.

I changed the serving plate while taking the main pictures of the dal baati recipe.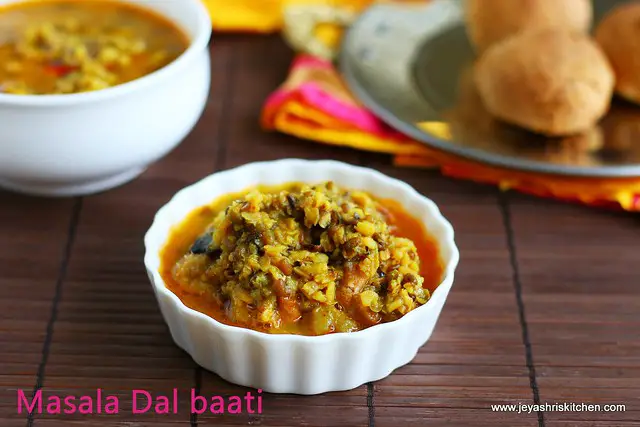 Notes:
You can make this dal baati without stuffing. Simply bake the baatis after kneading the dough.
Instead of potato paneer can also be stuffed inside.
If you do not have an oven, drop the dough balls in oil | ghee and deep fry.
In case you are following this make flatten the balls slightly, so that it will make the process bit quicker.