Sun dried Tomato pesto pasta is a simple pasta recipe, made with sun dried tomatoes as a base. I have got few varities of pasta from Italy, during our Europe trip. And now slowly exploring interesting pasta recipes too. I have a pack of sun dried tomatoes lying in my freezer for some time. Few days back when my cousin shared a picture of a pasta in Instagram. As the name sounded interesting, i asked her the recipe. She messaged me quickly and on seeing that itself i somehow felt, i should try this soon . She made the pasta with store bought basil pesto. But since i have sun dried tomatoes wanted to make use of it and tried with that. Generally pesto recipes uses parmesan cheese in it. But since they say it is not suitable for vegetarians, i just omitted the parmesan and added olive oil in that place. Check out my other pasta recipes.
Sun dried Tomato pesto pasta
Preparation Time : 15 mins | Cooking Time : 30 Mins |Serves: 3-4
Pasta (any type)* 2 cups
Sun dried Tomato 14 pieces
Walnut 8
Fresh cream 1/4 cup
Garlic 1
Olive oil 3 tblsp
Broccoli, mushroom and capsicum 3/4 cup
Salt to cook pasta
Chili flakes as needed
Oregano a pinch
*I used whole wheat pasta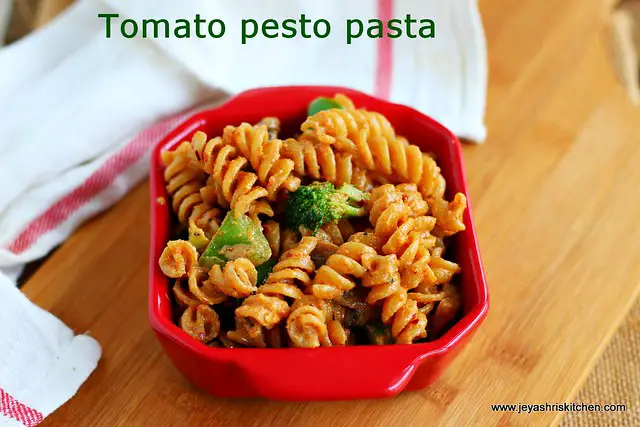 Method:
Soak the pasta for 5 minutes. I used whole wheat pasta which i got from Italy during my recent trip. I have never come across here in Singapore.
Cook with little salt and few drops of water. Reserve 1/2 cup of cooked water and drain the pasta.

I bought sun dried tomato from Mustafa, also you can get it from Fair price or cold storage too. Some times it can be available in jars, soaked in oil. But personally i have not seen it.
Grind the sun dried tomato, garlic, walnuts with 2 tblsp of oil.
Do not add any water while grinding. If needed add few tsp of olive oil.
But walnuts will ooze out some oil and will be enough to make the pesto grind well.

Wash and chop the veggies and keep it aside. I used mushroom, broccoli and capsicum.
You can use sweet corn, baby corn, carrots, peas and olives. Do not add too much veggies.
Just stick to the quantity i mentioned.
In a pan add 1 tblsp of olive oil and saute it for 2-3 minutes in a medium flame.

Now add the veggies to this and cook for a while. Let it be crunchy.
Add little salt, chilli flakes and oregano.

Now add the fresh cream. Add the water which we reserved after cooking the pasta.
Mix well and add the cooked pasta. Mix well and cook in low flame for 2 minutes.
You can replace with basil pesto instead of sun dried pesto.
Switch off the stove and serve hot.
You can add some grated cheese in the last.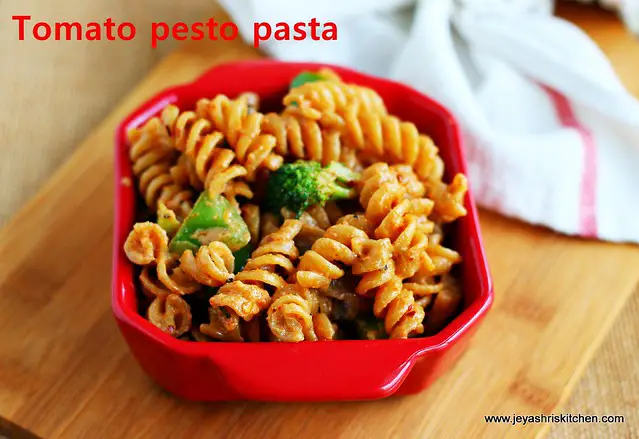 Notes:
You can use any variety of pasta.
Instead of walnuts you can use pine nuts or soaked and peeled almonds.
Fresh cream gives the creaminess to the pasta so do not omit.
You can use any variety of pasta.
The cooked pasta water contains starch and so it will sink in well with the fresh cream. Plain water will not give you the same effect.