Soup is a very common dish takes place in my kitchen. But mostly i end up making either tomato soup or sweet corn veg soup as the kids love it most. Last year when i made the supplement for Kungumam Thozi, themed Soups n Salads, i have given few new interesting soup recipes. This beetroot soup is one among them. Since the weather is very pleasant and cold, i thought i will share a recipe of soup today and found a beetroot lying down in the refrigerator. So i decided to make the beetroot soup and writing this post now with a cup of hot soup beside me. Check out my other
soup recipes.
You can have this soup with whole wheat toasted bread and have it as a light lunch or dinner too.
Beetroot Soup
Preparation Time : 10 mins | Cooking Time : 25 Mins |Serves: 3-4
Beetroot Chopped 3/4 cup or 1 small beetroot
Garlic pods 4
Onion 1
Butter or Olive oil 3 tsp
Fresh cream 1-2 tblsp
Pepper powder as needed
Salt to taste
Bay leaf 1
Yellow moong dal 1 tblsp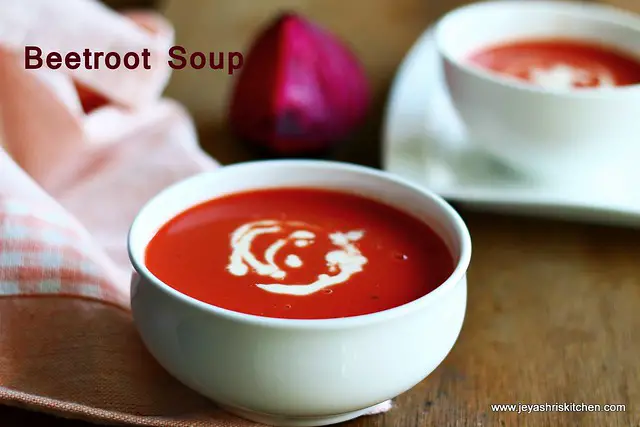 Method:
Peel the skin of the beetroot and chop them roughly. I just chopped them finely.
Take out the skin of the garlic and chop the onions roughly.
In a pressure cooker, add butter or oil. I used butter. I did in the pan first and then transferred to cooker. As the beetrot was dark in side the cooker i couldn't capture it well, so i did thsi only for pictures. You can do the entire cooking in pressure cooker itself.
Add the bay leaf, onions and garlic.

Add the chopped beetroot to this after onions turns nice brown colour. Saute for 5 minutes on high heat stirring continuously. Lower the flame and add the moong dal.

Add 2 cups of a water and pressure cook till 3 whistles.

The beetroot must have cooked and will be soft now.

Allow this to cool. Take out he water , reserve this to add it to the soup later. Discard the bay leaf.
Grind the rest of the chunks.

Add the beetroot puree and the cooked water to this.

Add 1 more cup of water to adjust the consistency.Let this boil for 5-7 minutes in a medium flame.

Add the salt and pepper powder.Switch it off and add the fresh cream.
Mix well.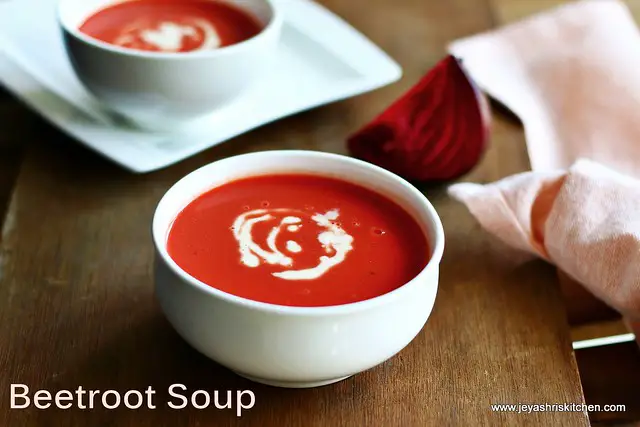 Notes:
Instead of fresh cream you can add full cream milk too.
If adding milk add when you are grinding the beetroot chunks. Add 1/4 cup of milk.
You can add coriander stem while cooking, will give a nice flavor.
Yellow moong dal is added to get thickness to the soup.