Bhel puri is a popular Mumbai chaat recipe made with a wonderful combo of ingredients. We all love bhel puri and I love to make this at home too. More than me Varsha, my daughter enjoys eating Bhel puri and making it too. When all the ingredients are ready she loves to prepare her own bhel puri as she always love to eat it spicy. So i will mention my specifications and sit back with my favourite book and bhel puri will be served on my hand. Though there will be little mess in the kitchen , still it is always a bliss when someone serves you food.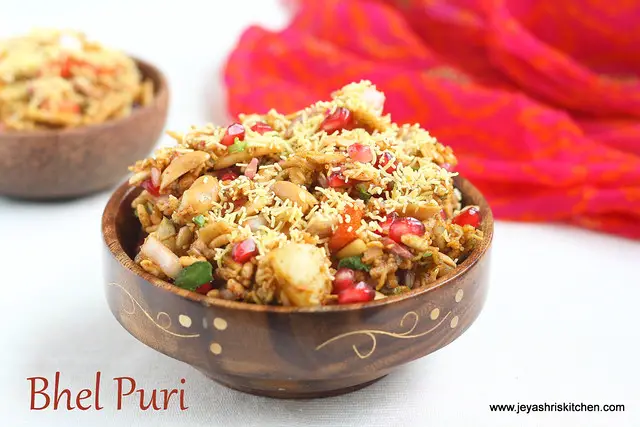 But for this post i made Bhel puri according to my own taste and there is no hard and fast rules to strictly follow the quantity of ingredients.Just add according to your taste. INGREDIENTS: MAKES 3 SERVINGS
| | |
| --- | --- |
| PUFFED RICE| PORI | 1 AND 1/2 CUPS |
| BOILED POTATO(cubed) | 3 TBLSP |
| PLAIN SEV | 1/4 CUP |
| PAPDI | 10 |
| SWEET CHUTNEY | 3 TBLSP |
| GREEN CHUTNEY | 1 TBLSP |
| ROASTED PEANUTS | 2 TBLSP |
| CHAAT MASALA | 1/4 TSP |
| RED CHILLI POWDER | 1/4 TSP |
| SALT | TO TASTE |
| POMEGRANATE | 3 TBLSP |
| ONION | 1 |
| TOMATO | 1/2 |
| RAW MANGO | 2 TBLSP |
| CORIANDER LEAVES | FEW |
| LEMON JUICE | FEW DROPS |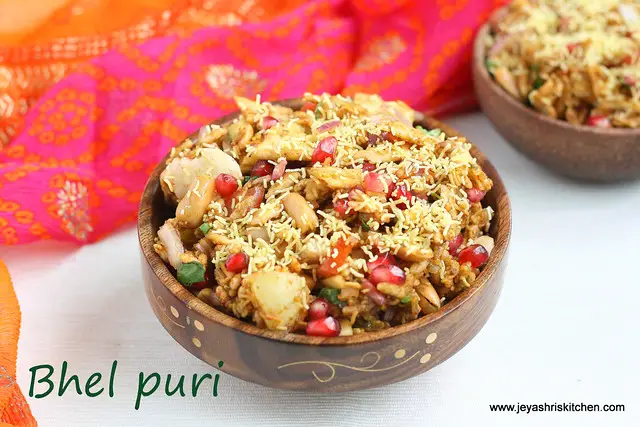 METHOD:
Finely chop the onions, deseed the tomato and chop them into small pieces.
Chop the raw mangoes finley and the boiled potatoes into cubes and chop the coriander leaves finely.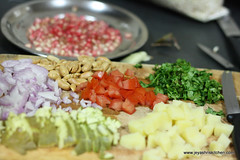 In a wide bowl add the puffed rice| puri, and add the chopped onions, tomatoes,raw mango,peanuts,potatoes.
Add the sweet chutney, red chutney,red chilli powder, chaat masala, little salt( all chutneys and chaat masala contains salt).
Mix well.
Now add the papdis. Crush the papdis and add. Add the plain sev and add the pomegranate.Lastly add lemon juice.
Mix well and serve immediately.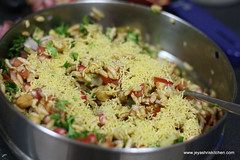 While serving garnish with plain sev .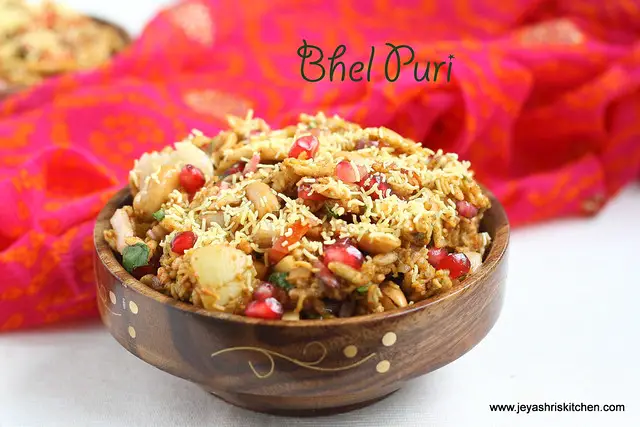 Note:
You can add finley chopped apple and pear if serving for kids.
If pori is soft, you can slightly roast it in a pan and add.
Always make it just before serving else it will become soggy.