Biscuit topping | Biscuit canapes is a easy recipe, as i mentioned in my mango float recipe, this is a post from Varun, my little one. He learnt this recipe from school and wanted to post this on jeyashri's kitchen on the occasion of Mother's day tomorrow. I just took a video of him doing the biscuit topping and just posted the video without any editing. I have given some variations to the recipe in the notes section and you go ahead with your own ideas and creativity. Share some ideas with me also in the comments section.
You can also try Yogurt sandwich, aloo channa chaat bruschetta. 

Biscuit Topping
  Preparation Time : 15 mins | Cooking Time : Nil |Serves: 2
     Plain crackers | biscuits    8
     Onion    1
     Tomato  1/2
     Boiled Sweet corn   3 tblsp
     Tomato ketchup   2 tsp
     Mustard sauce   1 tsp
       
     
Method:
Chop the onions and tomatoes finely.
In a wide bowl add the onions , tomatoes,sweet corn, tomato ketchup and mustard sauce.
Mix well with a spoon.
Top it on biscuits and serve immediately.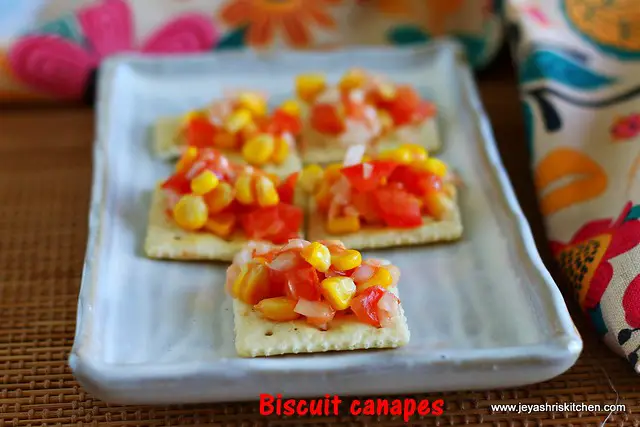 Notes:
You can add grated cheese on the top before serving.
Finely chopped carrot and cabbage can be added to make it more healthy.
You can add some hung yogurt to this and replace it instead of mustard sauce.
Instead of veggies fresh fruits like strawberry, kiwi and pomegranate can be added along with hung yogurt mixed with sugar.