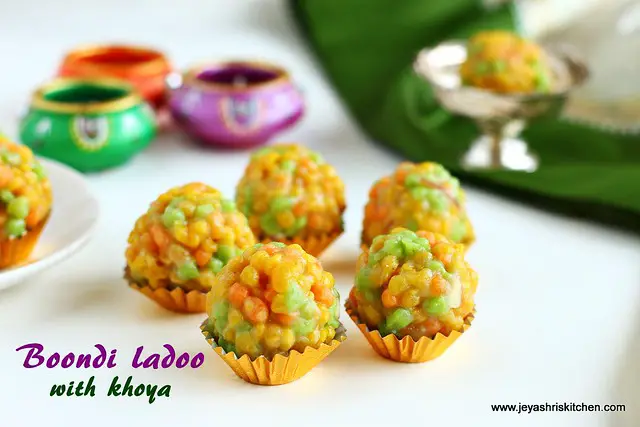 I have already posted boondi ladoo and motichoor ladoo recipe here. When my sister was telling me about the mothi pak which she happened to see in a sweet shop in chennai, i casually googled for that recipe. It is a type of ladoo burfi with the addition of khoya in that. I tried in the same way as motichoor ladoo adding khoya to the mixture and set it as burfi. Though the taste was very nice, somehow the burfis were not firm and i am not satisfied with the output. Later again when i was casually browsing for something else, i came across a Bengali Style boondi ladoo called Dorbesh, which is similar to our boondi ladoo but with the addition of khoya. Most of the time they make it in orange colour or it will be colourful. So i decided to go with colour boondis. The ladoos turned out extremely well and was very rich in taste too. Check out my
Diwali collection recipes.
Boondi ladoo with khoya
  Preparation Time : 15 mins | Cooking Time : 45 Mins |Makes: 13 ladoos
     Besan | kadalai maavu   1 cup
     Rice flour     1 tblsp
     Baking soda     a pinch
     Sugar     1 and 1/4 cup
     Khoya     3/4   cup
     Almonds     7
     Oil          for deep frying.
     Food colour     2-3 drops (i used green, orange and yellow)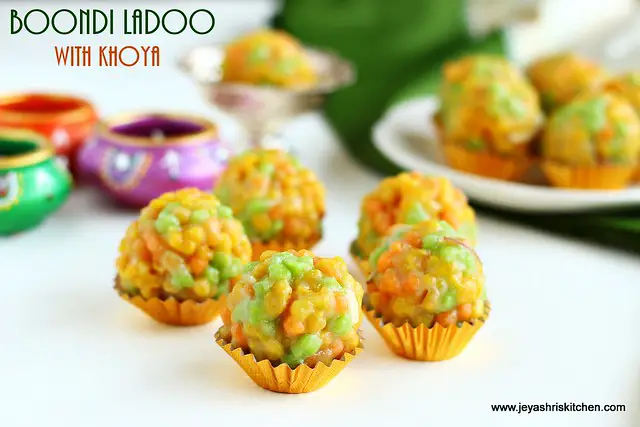 Method:
In a wide bowl add the besan , rice flour and cooking soda.
Add water to this and make it into a batter without any lumps.Batter should be like dosa batter consistency.

Divide the batter into 3 equal parts and add the food colour to each one of them. Mix well.

Add the green colour to this. Mix well.

Add orange colour and mix well.

Heat oil in a pan for deep frying. Make booondis with the batter using a perforated ladle. If you have proper ladoo karandi, you ca use that. Else you can use the normal perforated ladle(ottai karandi) which we use at home for deep frying.
First fry with one colour and then wipe of the back of the ladle completely and  make boondis with all the 3 colours. Fry the boondis till they are 3/4 th done.

Take out it when they are still little soft and not completely crisp. Drain the excess oil in the kitchen towel.

Add sugar in a pan and add 3/4 cup of water and a pinch of orange colour.
Dissolve the sugar and let it boil till the sugar has reached one string consistency. 

Switch off the flame and the fried boondis and chopped almonds to this.

Add the crumbled khoya to this and mix well. Here and there if there are few lumps of khoya are there, no need to worry, they will get dissolved in the heat.


Since khoya is added to the ladoos while making the ladoo balls you may feel sticky. So everytime making the ladoo, wash you hands and wipe well with a dry cloth and make ladoos.
Do not worry if the ladoos are slightly juicy. It will be perfect after an hour. As the boondis start absorbing all the moisture, it will be perfect.
Arrange the ladoos in a plate .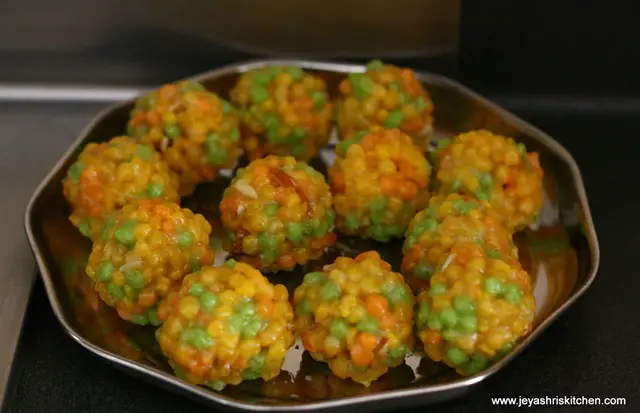 These ladoos stay good for 3-4 days . One day you can keep it out and if you still want to store it, you keep it in the refrigerator.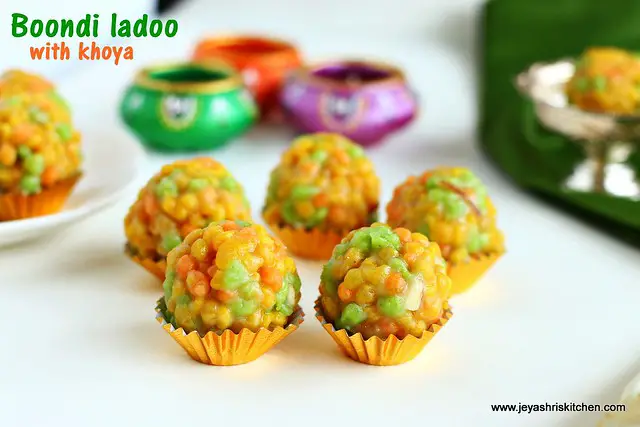 Notes:
Adding colour is optional.
Khoya gives a very rich taste to the ladoo.
Even if you find difficulty in making ladoos as you find the khoya is sticky, wait for 2 hours or keep the boondi mixture in the refrigerator.
After that grease your hands and carry on with the ladoo making.
Always ensure the sugar syrup reaches one string consistency before you add the fried boondis to it.