Diwali 2014
is  on October 22nd  and i am so excited to share new diwali sweets and savory recipes with you all. Stay tuned for more recipes coming up till diwali.  Gulab jamun is made in almost in all houses for diwali . Two year back i posted
Khoya gulab Jamun
and i wanted to try dry jamun recipe. Dry jamun will be easy to pack for guests and friends and also the sugar syrup will not get wasted . You can try this version of dry jamun even with instant gulab jamun mix too. Bread jamun was very tasty and pretty soft too. Sharing the recipe of instant bread gulab jamun recipe. Involve your kids in rolling the jamuns in sugar. The recipe i saw in a you tube video and noted it down also i referred 
Priya's blog
 too.
Ingredients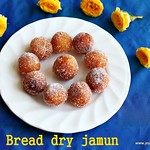 Preparation Time
: 20
mins + soaking time 2 hours
| 
Cooking Time
: 35 Mins |
  Yields: 15 jamuns
     Bread slices   4
     Sugar (for syrup)  1/2cup
     Milk powder | Maida (all purpose flour)  2 tblsp
     Milk     1/4 cup (room temperature)
     Sugar (to roll)   2-3 tblsp
     Oil    for deep frying
     Cardamon pods   2 (optional)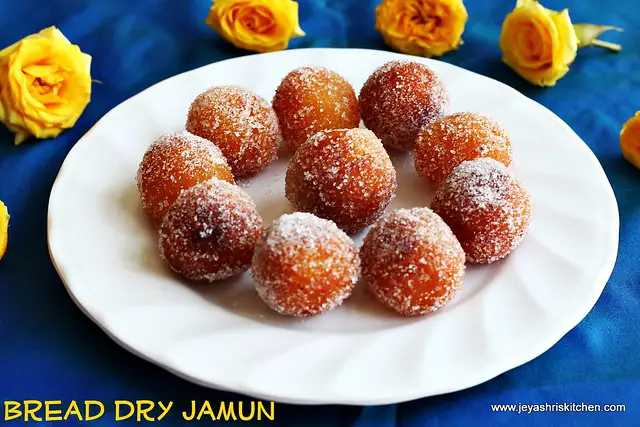 Method:
Trim the sides of the bread and dip them in milk and take out immediately.
Squeeze the extra milk nicely and place it in a broad vessel. Add maida| milk powder and knead it into a smooth dough, without any cracks. If needed grease your hands with ghee. If you feel it is not binding well, put his in a mixie and pulse once..
Divide the dough into equal parts. Keep oil for deep frying. When the oil becomes hot , keep the flame to low and drop in the balls, do not over crowd the pan.
These bread jamuns took little extra time to cook. Unlike the normal jamuns it was not cooked quickly. Actually i tried cooking this in an paniyaram pan, but lost patience and transferred to oil .Take it out from oil when they turn golden brown and drain them in a kitchen towel.
Make the sugar syrup by adding 1/2  cup of sugar in a pan . Add 1/4 cup of water to this. Bring to boil and add cardamom pods if using.
Boil till the sugar syrup becomes sticky. Switch it off.
Allow this to become warm. Add the fried balls to the syrup and let it soak in sugar syrup for 2 hours.
After 2 hours, take out the balls soaked in sugar syrup . By this time most of the syrup must have observed by  the bread jamuns.
Take 2-3 tblsp of sugar in wide plate. Roll the jamuns on the sugar and place it on a plate.
Repeat the same for the rest of the jamuns.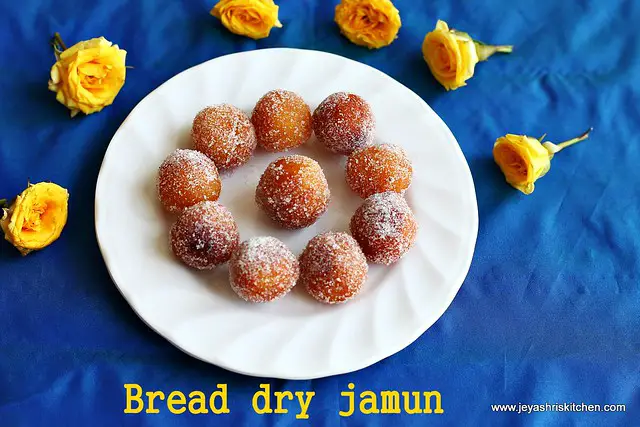 Notes:
Instead of rolling in sugar you can roll in desiccated coconut too.
Even you can roll in small rice mittais too (jeeraga mittai) or rice crispies.
This jamun will stay good for 2 days if refrigerated properly.
Always ensure to cook in a low flame. Else it will not get cooked inside.
If you are planning to keep it as normal jamuns in syrup instead of dry jamun, add 3/4 cup of sugar and 1/2 cup of water for the syrup .