Gulab jamun is a popular Indian dessert, i have already posted
khoya gulab jamun recipe
during diwali festival. This potato gulab jamun  i have  heard from my friend  but no clue as how to make it. After seeing the recipe 
here
, i thought i will try this at home one day and bookmarked the recipe . I tried this today and it turned out so perfect.  Being our wedding anniversary tomorrow, i thought i will post this gulab jamun recipe here today.
Potato gulab jamun
  Preparation Time : 10 mins | Cooking Time : 40 Mins |Makes: 40 jamuns
     Potato   1 cup
     All purpose flour | maida   4 tblsp
     Baking soda     a pinch
     Ghee      1 tsp
     Sugar       1 and 1/2 cup
     Water       1 and 1/2 cup
     Rose water    1 tsp (optional) 
     Oil       for deep frying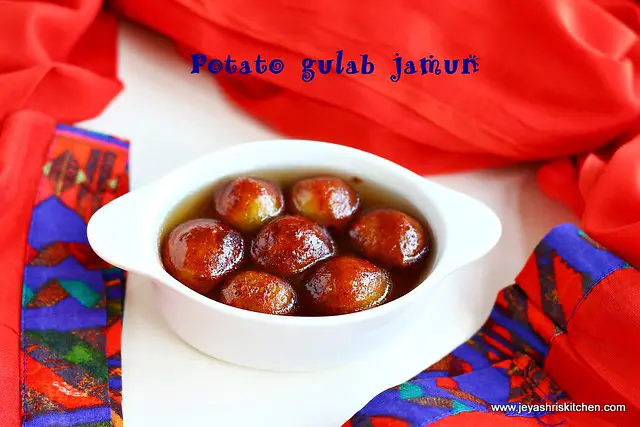 Method:
Boil the potatoes and mash them nicely. Best way is to grate them in a grater to make it even.  Add the flour and baking powder to this .

Knead this into a smooth dough without any cracks. Do not add any water while making the dough. If u still find the dough very loose add little extra flour to this.
Make this into small rounds .

In a pan heat the oil and when it is hot, keep the flame low and fry the potato balls into golden brown. Do not keep the flame high . Else the inside of the jamuns will not get cooked.
Keep the rest of the dough covered all the times.

In another pan add sugar and add water. Once the sugar is dissolved, allow this to boil for 2 minutes and switch off the flame. Add rose water if adding.
Drain the fried jamuns in a kitchen towel.
Transfer the jamuns to the warm syrup. Repeat this for the rest of the dough.

Let the jamuns sit in the syrup for 2 hours. If needed microwave for 30 seconds and serve hot.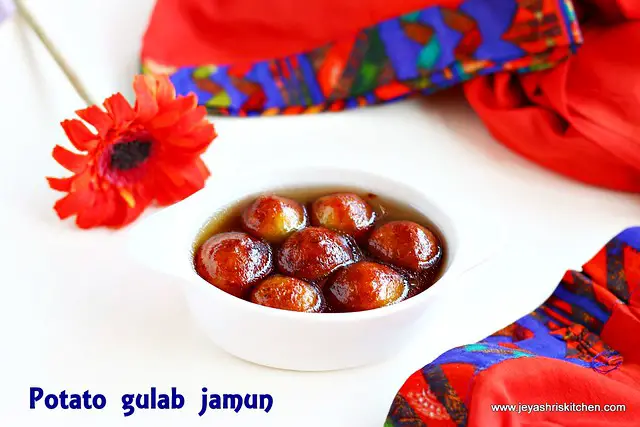 Notes:
Grate the potatoes after they are boiled . This will ensure even mixing.
Do not use the US russet potato, it will become grainy once boiled.
This jamun can be made with sweet potato too.
Whie frying keep the flame low, else the jamuns will not get cooked inside.