Iyengar bakery style toast
Bread masala toast is a open sandwich, which can be made on busy mornings for breakfast and also if you want a light dinner too. I wanted to post a sandwich recipe without using a sandwich maker, and so posting this recipe. This can be made on a tawa and quite easy one to make too. I got this recipe idea from
here
. A best tiffin for  kids who come back from school and with veggies in it, quite healthy too. I have given this recipe for Kungumam Thozi supplement 2 months back.I made this bread masala toast again and clicked stepwise pictures to post it here.
Ingredients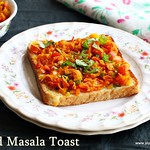 Preparation Time
:
15 mins
|
Cooking Time
: 20 Mins |
  Serves
: 3
     Bread slices  3
     Carrot    1
     Bell pepper|capsicum  a small piece
     Onion    1
     Tomato  1
     Cumin seeds  1/4 tsp
     Chaat masala  1/4 tsp
     Red chilli powder   1/4 tsp
     Tomato Ketchup    3/4 tsp
     Salt   to taste
     Butter    to toast bread   
     Oil   1 tsp   
     Coriander leaves  few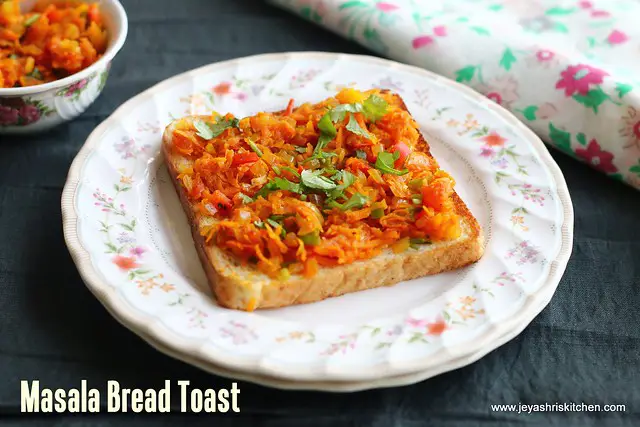 Method:
Grate the carrots and cut the onion , tomato (deseed the tomato) and capsicum into very fine pieces.
In a pan add oil and add in the cumin seeds and add the onions and saute till they turn pink. Add in the chopped tomatoes and saute well.
Add in the grated carrots and the bell pepper. Stir it once and add the chaat masala,red chilli powder and the the tomato ketchup.
Add salt and mix well. Saute in a low flame for 5 minutes. Switch it off .
Place a tawa and heat it. Toast the bread with little butter on both sides. Spread the filling on the top side and garnish with coriander leaves.
Repeat the same for the rest of the bread too.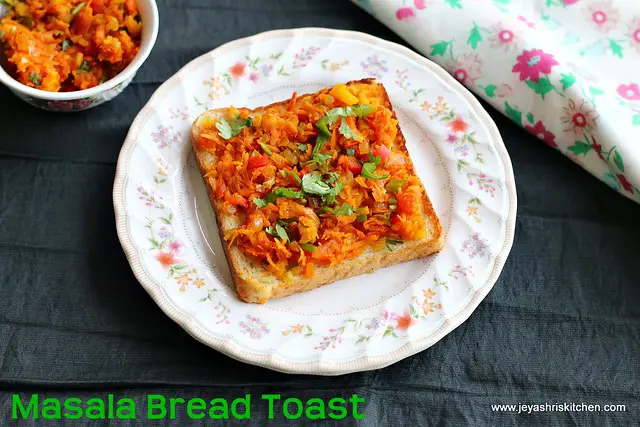 Notes:
You can add cooked grean peas too.
Any veggies of your choice can be added.
You can either serve this as an open sandwich or serve as a closed sandwich by keeping another toasted bread on it.
Sprouts, cauliflower can be added
Left over potato curry or poori masala can be used as filling.