Sago murukku | Javarisi murukku is a different and crispy murukku variety. I tried this murukku 2 months back. Since i was not so satisfied with the clicks, i thought i will make this again and post this recipe of sago murukku. Try this murukku for Diwali 2014, i am sure everyone will be impressed by the taste of this murukku. I got this recipe from my friend's mother in law. I noted it down long back in my old notebook and happened to see this during navaratri. Check out my other diwali snacks recipes
Ingredients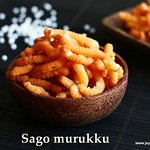 Preparation Time
: 5 mins+4 hours soaking
|
Cooking Time
: 20 Mins |
Yields: 3 cups
Sago | Javarisi 1/4 cup
Yogurt 1/4 cup
Rice flour 1 cup
Red chilli powder 1 tsp
Butter 1 tsp
Hot oil 2 tsp
Cumin seeds 1/2 tsp
Asafoetida 2 pinches
Oil for deep frying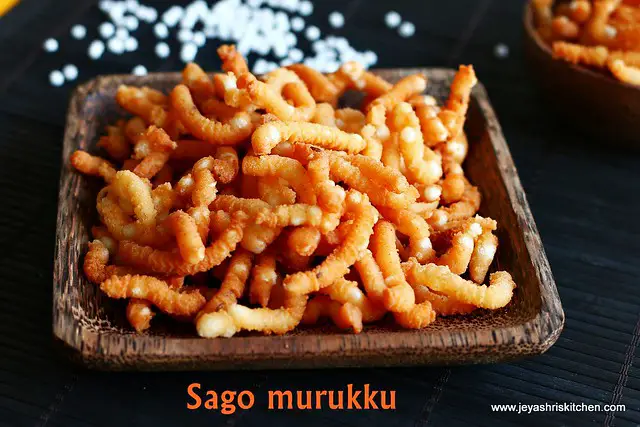 Method:
Soak the sago|javarisi in yogurt for 3 hours. You need to mix it well with hands. After soaking it will be doubled in size.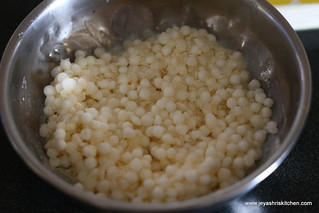 In a wide bowl add the sago mixture, rice flour, chiili powder, cumin seeds, butter, hot oil,salt and asafoetida.
Sprinkle little water as needed and make it into a soft dough.
Put it into a murukku press and press it into hot oil.
It won't come as full murukku. I tried this 2 times with 2 different murukku achhus. You can use any achu of your choice.
I used a new achu with 4 holes.
Heat oil and fry and when the oil sound subsides take them out from oil.
Drain in a kitchen towel. Crispy murukkus are ready.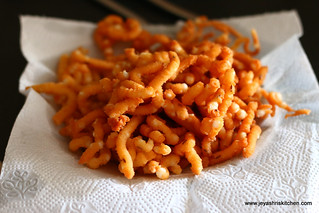 Store in a airtight container and enjoy the murukkus.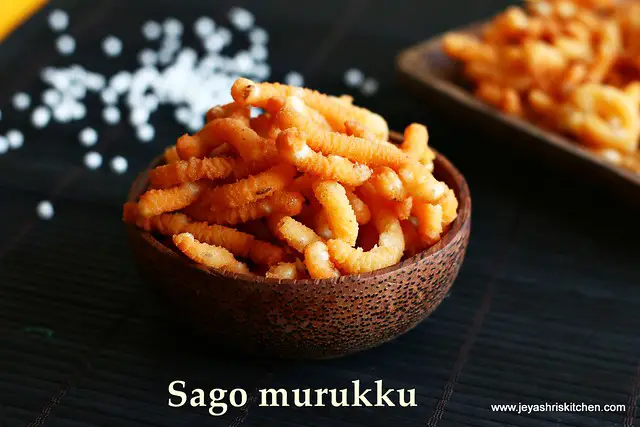 Notes:
Actually in the original recipe aunty told to add green chili paste. If felt that it will be too hot and so added red chilli.
Do not worry about the sago will get struck to the holes in the achu. It will come smoothly.
Just mash it nicely with your hands before adding the flour.
As yogurt is added you can add little more chilli powder also.
If the sagois not soaked properly it will burst in oil. Ensure it is soft