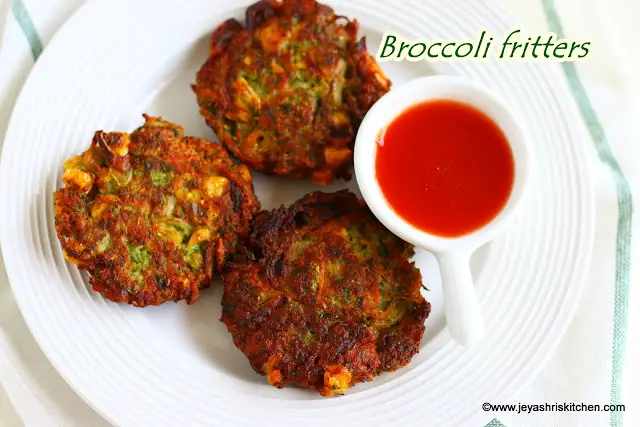 Broccoli fritters, a simple and delicious snack recipe made using broccoli and other veggies, recipe with step by pictures and video. I got Preethi Zodiac Mixie, from Preethi kitchen appliances few months back. It comes with a Master chef jar which does a lot of function. Initially when i opened i was totally puzzled as how i am going to use all these facilities. But after few days i slowly got adjusted to it and now i can say, i am totally satisfied with the Master chef jar of Preethi zodiac Mixie. It does chopping, grating, kneading and slicing as well. It's quite useful for working women who always run out of time for chopping veggies. In this video, i will be showing the options available in the Master chef jar of Preethi zodiac.
[penci_recipe]
Method with step by step pictures :
Using preethi zodiac mixie's chopper blade chop the broccoli, red chili and coriander leaves.
Using the grater option, grate 1 carrot.
Using preethi Zodiac's slicer option, slice 1 onion.
Put everything in a bowl.
This veggie mixture came to 1 cup plus little more.
Add 1/2 cup of sweet corn to this. I used frozen ones.
Add 1/4 tsp of oregano to this.
Add salt as needed.
Add the gram flour. You can add chick pea flour as well.

Mix everything to combine well.
In a pan heat the oil for shallow frying.
Grease your hands with little oil.
Take a big lemon sized portion of the mixture and flatten it into a patties.
Place it on the pan.
Cover it and cook on both sides.

Cook in a medium flame so that it will get cooked inside too.
Once done take out and drain excess oil in a kitchen towel.
Repeat this for the rest of the Vegetable mixture.
Instead of shallow frying, you can place the patties on the dosa tawa and cook with even lesser oil too.
But definitely the taste will differ, but you can opt this for a more healthier option.