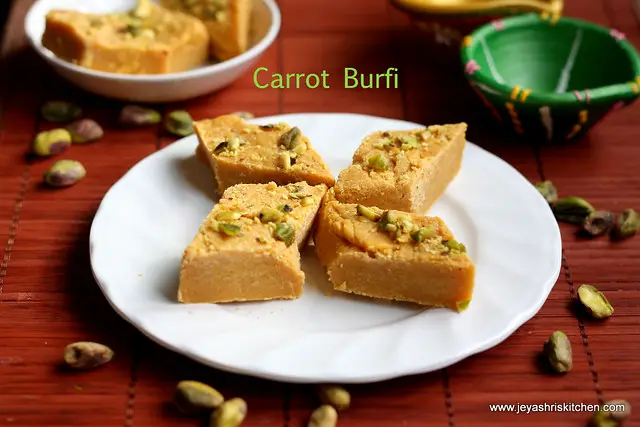 Carrot burfi recipe | carrot barfi recipe
After the very successful attempt of trying out the
BADAM BURFI
I wanted to try out the carrot burfi. To add more happiness, this carrot burfi turned out fantastically well and it took 15 minutes for me to finish making Burfi. It tasted awesome and my daughter Varsha who is a perfect tastemaker raised her thumbs on the very first bite.  If you are new to making sweets for the first time, this burfi is definitely an easy sweet to try out for this Diwali. So lets move on to the recipe of carrot burfi –
Easy  Diwali Sweet. Recipe updated with Video now
PREPARATION TIME: 10 MINUTES.COOKING TIME: 15-20 MINUTES MAKES: 15 –17
INGREDIENTS:
| | |
| --- | --- |
| CARROT (GRATED) | 1 CUP |
| MILK | 1/4 CUP |
| GHEE | 1/4 CUP +2 TBLSP |
| SUGAR | 1 CUP |
| BESAN | KADALAI MAAVU | 1 CUP |
| PISTAS | TO GARNISH(OPTIONAL) |
| CARDAMOM POWDER | A PINCH |
Full video of Carrot burfi recipe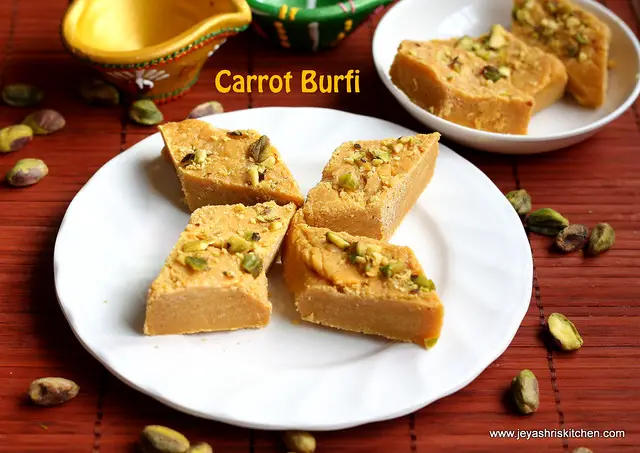 METHOD:
Grate the carrots and grind it into a paste by adding the milk.
Sieve the besan | kadalai maavu to avoid lumps. You can roast it for 5 minutes too.
Grease a tray with ghee and set it aside.
In a wide bowl add the ground carrot mixture, sieved besan, sugar and start stirring in a medium low flame. Be careful not to get it burnt.
Melt the ghee and add it slowly in regular intervals.
The mixture will start bubbling and at one stage it start leaving the sides and will form a mass. Switch off the flame.
Transfer it to the greased tray.
I finely chopped pistachios and garnished on the burfi
When warm cut this into desired shapes.
I finely chopped pistachios and garnished on the burfi.
I generally struggle to cut the burfis into diamond shapes. My friend Shri made this for me and now i learnt the method of shaping the burfis into diamond .
The night light makes the color to look different. the burfis came out in the colour which you see in the main picture.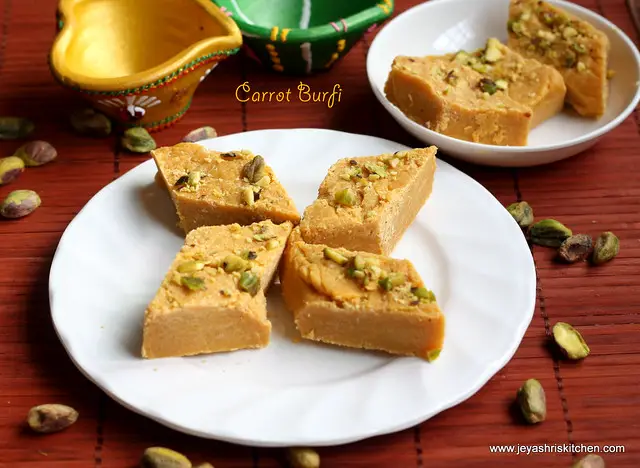 Notes:
If by any chance you feel the burfis are very soft and can not be cut, just put this again in the pan and stir for 3-5 minutes in low flame.
Always keep the flame in low. do not make it burnt.
Carrot burfi stays good in room temperature for a week.