Cashew and coconut burfi recipe | KAju coconut barfi is a simple and easy burfi recipe, a perfect Diwali sweet. After a break, i am again to celebrate New Year 2011, with a sweet recipe. We had a great vacation with our family and to add more joy we had a bloggers meet in Chennai and it was nice to fellow bloggers in person.
This recipe i learnt from my Mother in law. She always welcomes us with this sweet whenever we go to India. I wanted to try this on my own this time and I made this under her supervision and it came out really well. You can make this sweet for Diwali too. In our home, this cashew coconut burfi is the first one that will be prepared for Diwali.
Check out my
Cashew and coconut burfi recipe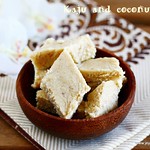 Recipe Cusine: Indian
Prep Time: 10 Minutes
Cook time: 30 Minutes
Serves: 30 small burfis
Author: Jeyashri
Recipe Category: Dessert
Description: Cashew and coconut burfi recipe, a simple and easy burfi recipe, a perfect Diwali sweet.
     Cashew nuts  1 cup
     Coconut  1 cup
     Milk  1/2 cup
     Besan | kadalai maavu | Gram flour  1 and 1/2 tblsp
     Ghee  2 tblsp
     Sugar  2 cups
    

Method with step by step pictures :
Bring the milk to boil.
Soak the cashews in the room temperature milk for 1/2 an hour.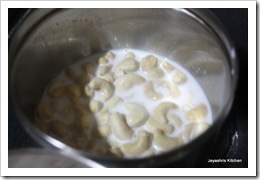 Grind the coconut in a mixie by adding a very little water to it.
Grind the cashews into a smooth paste. Use the same milk to grind.
In a pan, add 1 tblsp of ghee and add the besan flour | kadalaimaavu to this.
Just fry it till a nice aroma arises. Be careful, not to get it burnt.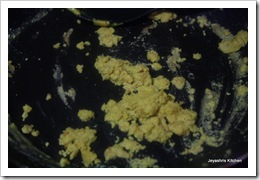 Take a  heavy bottomed pan, and add the cashew paste,coconut paste, roasted kadalaimaavu| besan, and sugar.
Mix it nicely and stir continuously.
Be careful not to get it burnt.
Add the 1 tblsp of ghee to this.
Check whether it is done or not, by taking out a tiny portion of the mixture and allow it to cool.
After that if it becomes firm just switch off the flame.
Other wise stir for few minutes.
Grease a plate with 1 tsp of ghee and transfer the mixture to this plate.
Spread this evenly and cut into desired shapes.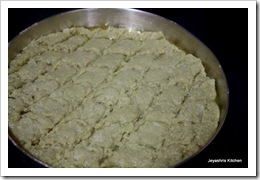 Allow it to cool for 1 hour.
Using a knife take out the burfies.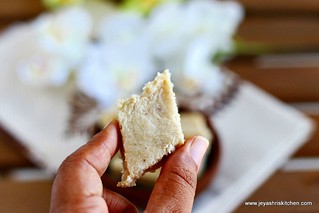 Store it in a air tight container.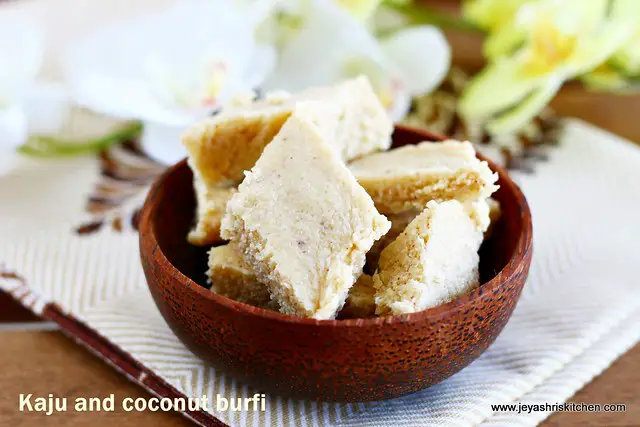 This recipe yielded 30 burfies of the size captured in the above picture.
If you want this to be more rich you can increase the quantity of cashew nuts and lessen the coconut.
Do not add more milk than mentioned, else it is difficult to get the shapes.
My mother in law always follow a trick to get perfect burfis in the last minute. She adds extra 2-3 tblsp of sugar in the last and then the burfis will hold a nice shape.
This coconut cashew burfi can stay for 15  days in normal room temperature.