no onion no garlic sundal recipe
I was planning to post this sundal recipe next week. But i have already started receiving invites from my friends for navaratri 2015. So i thought it will be easy for them to plan the menu if i post it now itself. Check out my collections of
Navaratri recipes.
Generally in most of the Tamil brahmin houses and other people who keep golu make the traditional sundal. This sundal is a different one from the usual sundal we make.This recipe idea i got from a friend during last Navratri itself. It was on my mind and i messaged her few days back about this and she was sweet enough to share her way of making this interesting chaat sundal. Thank you so much Meera . So for this navaratri give it a try and sure you will good response from your guests. Let me know how it turned out. Follow
Jeyashri's kitchen on facebook
for all recent updates. Check out the notes section to see some variations. Check out my
Combo menu
also to get some ideas .
Chaat Sundal
Preparation Time : 15 mins+ soaking time 10 hours | Cooking Time : 20 Mins |Serves: 6
Channa | Chole | vellai konda kadalai 1/2 cup
Pomegranate 3 tblsp
Apple 1/4 portion
Carrot grated 2 tblsp
Salt to taste
Sev| boondi to Garnish
For green chutney
Coriander leaves a handful
Mint leaves a handful
Green chili 1
Salt to taste
Sugar 1/4 tsp
Jeera powder 1/4 tsp
Black salt 2 pinches
Chaat Masala 2 pinches
Lemon juice few drops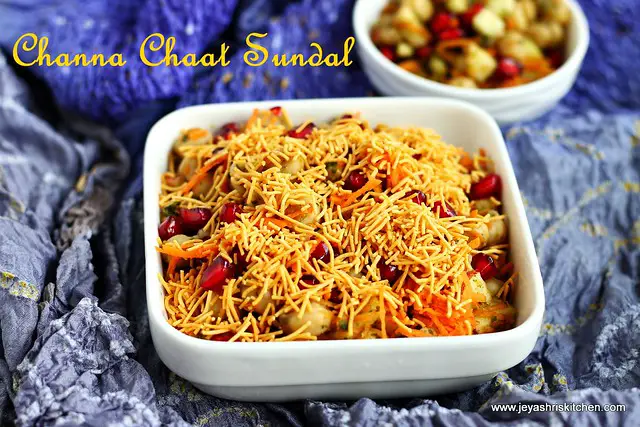 Method:
Soak the chole overnight and boil it in pressure cooker for 5-6 whistles. Add little salt while cooking.
Grind the ingredients given under the heading "Green Chutney".
Do not add much water while making this chutney. Let this chutney me a fine paste and thick.

Drain the water from the boiled Channa . Chop the apples finely. Grate the carrots and de seed the pomegranates .

In a wide bowl add the cooked channa, grated carrots, pomegranates, chopped apples, green chutney(to taste).
Mix well.

Add sev or boondi just before serving. You can garnish with coriander leaves too.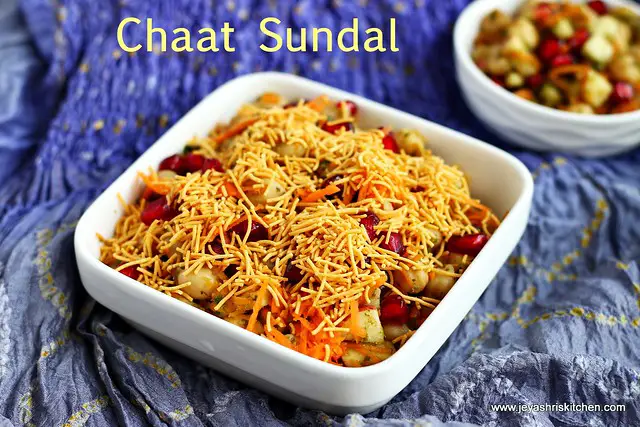 Notes:
You can add finely chopped mangoes to the sundal.
Quantity of fruits and veggies depends on your taste
You can add finely chopped capsicum too.
Boiled potatoes can also be added.
Since during navaratri we have lot of fruits at home, you can add finely chopped pear too.
Puffed rice can also be added but only thing it will be soggy as we keep it for a long .
Even papdis can also be added to this chaat sundal.
Boiled sweet corn can also be added.
You can use black channa or rajma or peanuts too.
A kind of mixed beans can also be used.
So wear your thinking hat and be innovative and make the celebration grand.