Chakka varatti is an authentic Kerala recipe made with jack fruit and jaggery. During my recent trip to India for my niece wedding, we as a group of family members were sitting and talking in the evening. One of my mami ,who is a native of palakad, was telling us that she sent few things for her daughter studying in abroad and one among them is her most favourite chakka varatti. Among the things sent to her, all the things reached except this chakkavaratti. Mami felt so bad and so as her daughter and she was sadly narrating to us this incident. When all of them were listening to this, i suddenly asked, "oh mami, how you make that and can you explain". For a moment everyone looked at me and we all burst into laughter. Then mami explained it well and i noted it down too. 2 days back i saw the local wet market selling jackfruit and i immediately bought and made the chakka varatti. It turned out very well and we all loved it. Its quite addictive too. Also mami shared the recipe of payasam they make with this jackfruit preserve. Will post the recipe soon. Check out my chakka pradaman recipe.

Chakka varatti recipe
Preparation Time : 10 mins | Cooking Time : 25 Mins |Yields: 3/4 cup
Jack fruit | pala sulai 11 pieces *
Jaggery 3/4 cup
Ghee 2 tsp
Dry ginger powder a pinch (optional)
*11 pieces taken out from a whole jack fruit, not 11 jack fruits. (pala sulai)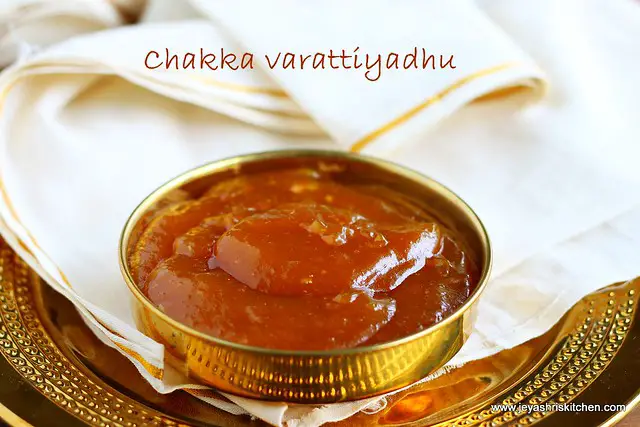 Method:
Wash and de seed the jack fruits. Do not discard the seeds, you can use it in sambar.
Also i have an interesting recipe using the seeds. Will share it later.
Pressure cook the jack fruit with 1/2 cup of water till 4 whistles.
Allow this to cool completely.
Add the filtered jaggery water to the pan and keep the flame low.
Grind the cooked jaggery into a fine paste.

Measure the puree and add equal amount of jaggery to the pan.
In a pan add the jaggery and add 3 tblsp of water to this. Boil and dissolve the jaggery and filter the impurities.

Add the filtered water back to the pan and boil for 2 minutes.
Add the pureed jack fruit to this.

Mix well without any lumps.
Cook this in a medium flame. Stir continuously.

Add little ghee in between. After few minutes the mixture will become glossy.
This took 15 minutes for me in a medium low flame.
Add the dry ginger to this (if using). I didn't add as i want to preserve the flavor of jack fruit.
When it comes to a mass add little ghee and switch it off.

Once it becomes cool, this chakka varati will get even more thicker.
Store this in a clean dry airtight container.
This chakkavarati can be had with chapathi, bread
Will post the payasam with chakka varatti soon.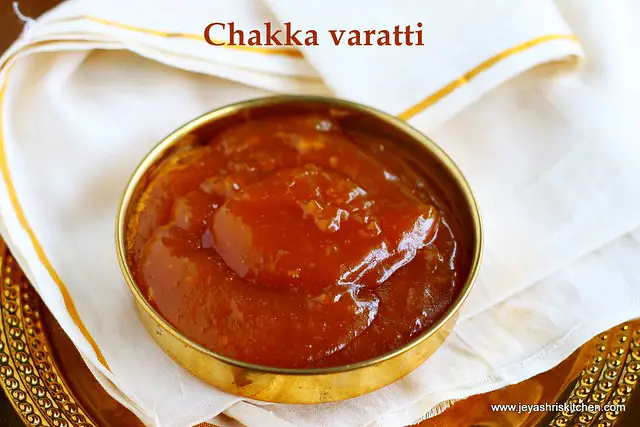 Notes:
While grinding the jack fruit grind this into a fine paste, else the chunks will be present while making the jam.
You can add cardamom powder also if you want in the last.