Godhumai rava payasam is a simple and easy payasam made with samba wheat rava, milk and jaggery as the main ingredients. I tried this last week itself but somehow struck with editing the video and by the time i finished editing it was too late . So i decided to post the recipe of Samba rava payasam today. Generally we use dalia | samba rava | godhuma rava for making upma or porridge . But this is a creamy and delicious payasam with godhuma rava . As i have mentioned in one of my recent posts, i am taking skype class for a group of 30 people, who are learning sanskrit and vedas (from a different teacher). As a part of their class, traditional cooking is being taught. I am previlaged to share my cooking knowledge with them by showing them how to cook traditional recipes. For the first class i made this godhuma rava payasam and a variety rice recipe(coming up soon). Check out my other easy payasam recipes:
  Preparation Time : 10 mins | Cooking Time : 25 Mins |Serves: 2-3
     Samba rava | Godhuma rava  3 tblsp
     Milk    1/2 cup + 1 cup
     Jaggery    1/2 cup
     Cardamom powder   a pinch
     Cashew nuts   7
     Ghee   2 tsp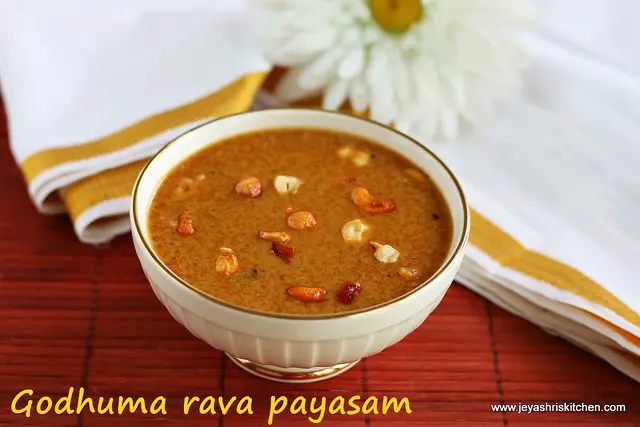 Method:
In a pressure cooker add ghee and roast the cashew nuts till golden brown. Keep it aside.
Add the godhuma rava to the cooker and roast this till it emits a nice aroma.
Be careful not to get it burnt.
Once done add 1/2 cup of milk to this and 1/4 cup of water.
Cover the cook and pressure cook this for 2-3 whistles.
Alternatively you can cook this in an open pan too.

In a pan add jaggery and add little water. Melt the jaggery and filter the impurities.

Add the jaggery water to the pan and add the cooked samba wheat mixture too.
Boil this for a minute.

Add the cardamom powder and roasted cashew nuts .
Allow this to cool.

Now you can add the 1/2 cup of milk to the payasam to bring it to the right consistency.
Payasam is ready for neivedhyam.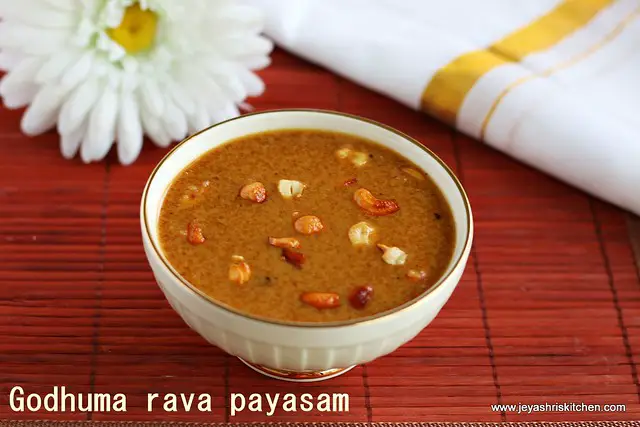 Notes:
You can add 1 tblsp of yellow moong dal or channa dal to the godhumai rava while roasting, this brings more creamier texture to the payasam.
Add the milk in the last once the payasam is cool. Else it will curdle. Add warm or cold milk. Do not add hot milk.
Instead of milk you can add thick coconut milk in the last.
I used the fine variety of samba rava for this payasam.
You can cook the samba wheat in water also instead of milk but cooking in milk only gives creamy texture.
You can increase the sweetness by adding 3/4 cup of jaggery.