Channa dal salad is a easy and healthy salad recipe, made with cooked channa dal and other veggies. I have also added papad | appalam to this to make it crunchy too.  This  channa dal i have tasted during our Delhi trip 3 years back. After that i tried it at home and we all loved it very much.  I have given this recipe for Kungumam thozi supplement which got published in Dec 2014.  After that, though i made this channa dal salad few times, but never clicked it. If you are a salad lover, Check out my
Channa dal salad
  Preparation Time : 20 mins | Cooking Time : 15 Mins |Serves: 2-3
           Channa dal | kadalai paruppu  1/2 cup
           Cucumber   1/2
           Carrot   1/2
           Capsicum   a small piece
           Sweet corn  1/4 cup
           Chaat masala   2 pinches
           Salt  as needed
           Papad | appalam  2  (optional)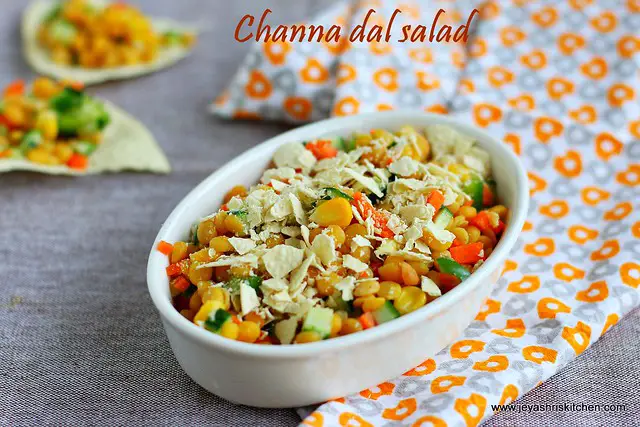 Method:
Soak the channa dal for 20 minutes. Pressure cook this till 3-4 whistles with little water. Add salt while cooking.
Boil the sweet corn along with the channa dal in the cooker.
Drain the excess water.

Chop the cucumber, capsicum and carrot finely.
In a wide bowl add the cooked chana dal, chopped cucumber and carrots.
Add the corn kernels. Add chaat masala to this.
If adding papads do not add salt now. As both chaat masala and papad has salt in it.
Roast the papad on open flame or microwave it.
Crush them roughly and add just before serving.
To make it more crunchy, keep crushed papad in a bowl and add it to the salad bowl for every spoon of salad.

Else you can break papad into bite sized pieces and serve the salad on the top of it.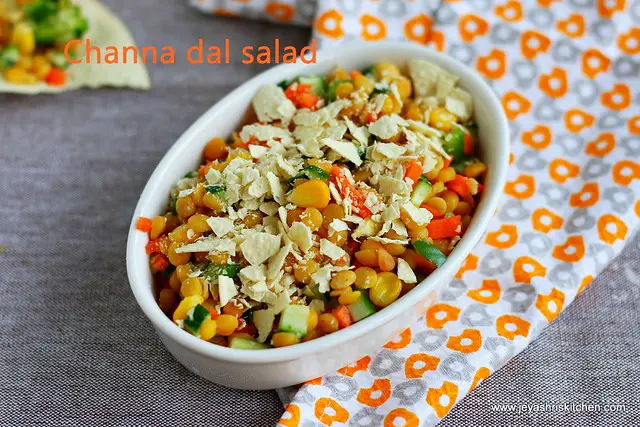 Notes:
You can add green chutney or sweet chutney to this salad.
Boiled potatoes can also be added to make it more filling.