Chitranna is a easy rice varietyof karnataka and can be packed for lunch box too. It is more similar to the kandae poha which we make using aval | poha. I learnt this from my friend who taught me the andhra pulihore. If you have cooked rice in hand this recipe can be made in a jiffy. I am out of station for the next 10 days. I have scheduled few simple recipes for the next 10 days. Will be delay in responding to your emails. Thanks for your patience and kind understanding. Check out my other rice varieties too
Chitranna
  Preparation Time : 10 mins | Cooking Time : 20 Mins |Serves: 1-2
     Rice     1/4 cup
     Potato     1
     Onion    1
     Oil     1 tblsp
     Mustard seeds    1/4 tsp
     Urad dal    1/4 tsp
     Peanuts    1 tsp
     Green chili    1
     Chutney dal | Pottukadalai   1 tblsp
     Grated coconut  1 tblsp
     Coriander leaves    few 
     Lemon juice   1 tsp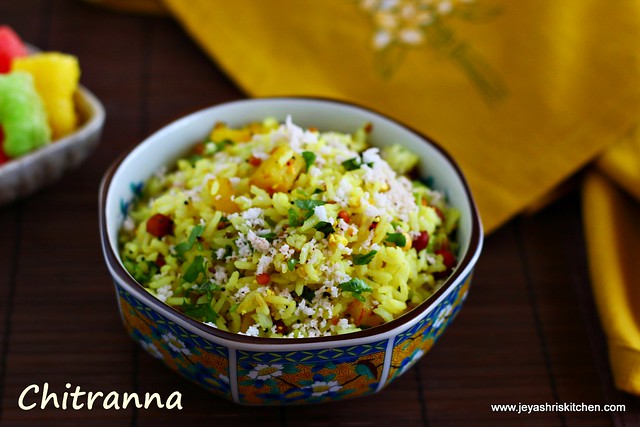 Method:
Cook the rice  with 3 portions of water. Since i used 1/4 cup of rice i used 3/4 cup of water.
Spread the rice in a wide plate. Chop the onions finely. Chop the potato into cubes. Cut the green chili too.

In a pan add oil and add in the mustard seeds, peanuts, urad dal and peanuts.
when the dal turns golden brown add  the onions and saute till the becomes pink.

Add the cubed potato to this . Add salt and turmeric powder.

Let this cook in a medium flame. Keep stirring in between.
Meanwhile pulse the chutney dal in a mixer once. Let it be coarse.

Check whether the potatoes are cooked by inserting a fork or knife into the potato.
When it is soft, add the cooked rice to this and also add salt. Switch off the flame.
Add lemon juice to this.

Add the coarsely ground gram dal and  finely chopped coriander leaves. Garnish with grated coconut.

Mix well and serve it with papad or raitha of your choice.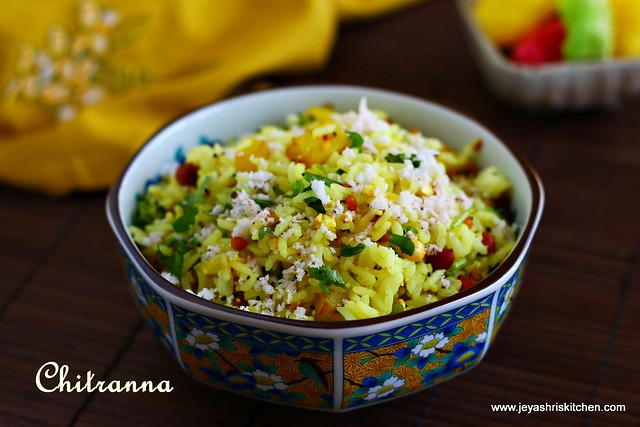 Notes:
You can add grated carrot to this for garnishing too.
Left over rice can also be used for this.
Ensure that the rice is not over cooked.
Instead of lemon you can add 2 tblsp of grated raw mango too.