Baby corn will mostly cooked in my kitchen every week, either i make
baby corn pulao
or
baby corn masala
or
baby corn kurma.
This baby corn manchurian fried rice i gave for Kungumam Thozi and got published in Sept 16-30 edition. It was a super hit recipe at my home and kids love it a lot. A simple raita too goes well with this baby corn manchurian fried rice. Check out my
fried rice recipe
and
baby corn manchurian gravy
too. Baby corn can be replaced with cauliflower or Mushrooms too.
Baby corn fried rice
Preparation Time : 15 mins | Cooking Time : 1 hour |Serves: 2-3
Basmati Rice 1 cup
Baby corn 6
Capsicum 1/2
Carrot 1/2
Garlic 5 pods
Spring onion few (to garnish)
Soya sauce 1 tsp
Pepper powder 1/4 tsp
Oil 2 tblsp + for deep frying
Salt to taste
Sugar 1/4 tsp
Green chili 1
Onion 1
Maida | all purpose flour 2 tblsp
Corn flour 2 tblsp
Red chili powder 1/4 tsp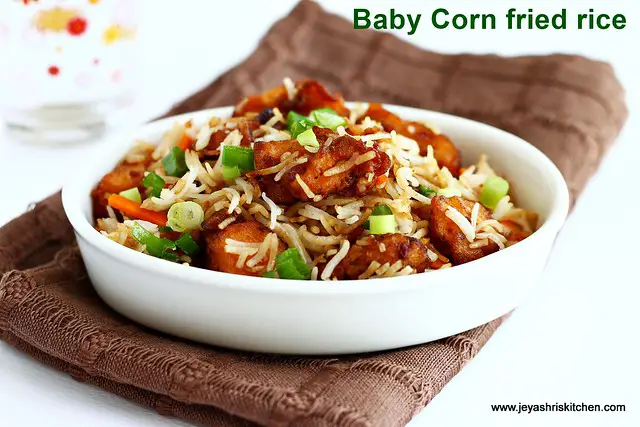 Method:
Wash and soak the rice for 15 minutes in 1 and 1/4 cup of water. Cook for 3 whistles by adding salt and a tsp of oil. Separate the grains and spread the rice in a wide plate and keep it aside.
In a wide bowl put the all purpose flour, corn flour, red chili powder and salt. Add little water and mix this into a batter(dosa batter consistency) without any lumps.

Wash the baby corn and put this in hot water and boil for 5 minutes. Take it out and drain the water and Slice the baby corn into medium size pieces. I cut them as shown in the pictures.
Wipe the baby corn pieces well using a clean towel.
Put the slit baby corn in the batter.

Heat the oil for deep frying and start frying the baby corn in batches. Do not over crowd the pan. Keep it aside in a

Finely chop the onions, garlic and green chili. Thinly slice the carrots and capsicum. I used red capsicum.
In a pan add 2 tblsp of oil and add the finely chopped green chili, garlic and onion. Add the sugar to this. Cook in a medium flame till the onion becomes pink.
Now add the fried baby corn and the chopped carrots and capsicum to this.

Now add the little salt, pepper powder and soya sauce. Mix well.
Add the cooked rice to this. Gently mix it up well.

Garnish with spring onions.
Baby corn manchurian fried rice is ready to serve.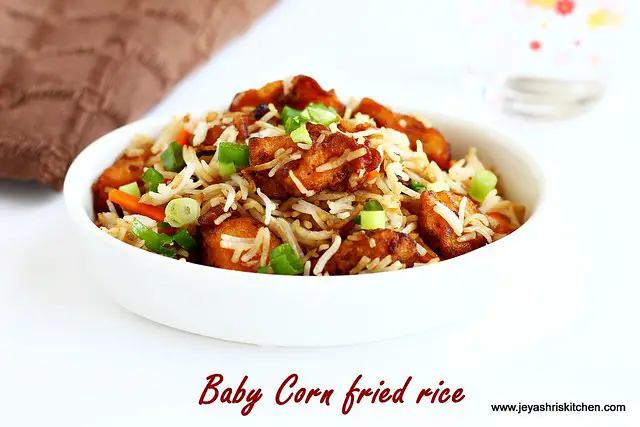 Notes:
You can add finely chopped cabbage to the rice while adding the carrots.
Do not more soya sauce than the quantity mentioned.
Ensure the rice is cooked perfect. Do not over cook the rice.