Thengai chutney | coconut chutney | getti chutney
, whatever name you call, i love to have this chutney though i am served with any variety of chutney. Whenever we go to Murugan idli kadai, the thengai chutney bucket will be kept of the table, so that the waiter will not have too many visits to my table. Somehow i am not a big fan of my mom's thengai chutney, she add little tamarind to that. Our neighbour aunty makes the coconut chutney very well with several variations. Check the
kurunai vadai
recipe i learnt from her. Last week, when amma visited aunty i asked her to clarify few doubts from aunty and finally i am confident to write the popular
south indian coconut chutney recipe. 
Coconut chutney
  Preparation Time : 10 mins | Cooking Time : Nil |Serves: 2-4
     Coconut |Thengai (scrapped)     3/4 cup
     Pottukadalai | chutney dal| roasted gram     1 tblsp
     Green chili   1-2
     Shallot | small onion    1 (optional)
     Oil      1/2 tsp
     Mustard seeds     1/4 tsp
     Curry leaves     few
     Salt     as needed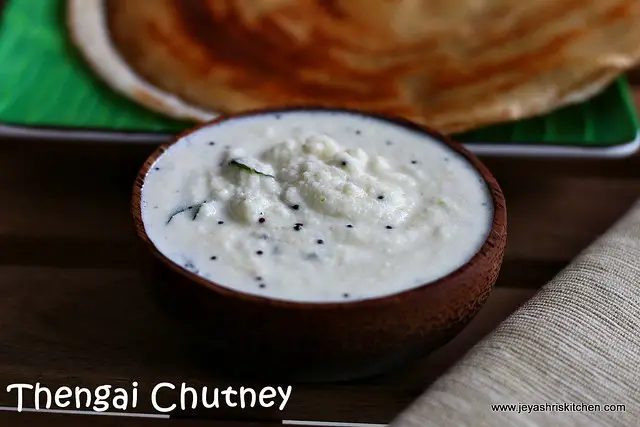 Method:
Always use fresh coconut for best results. Break the coconut and take out the white portion. The bottom portion of the coconut can be used in curries or thogayals.
In a mixie, add the coconut, pottukadalai, green chili and the shallot(if adding). Add salt.
Grind this into a fine paste. Add little water while grinding.

Add oil in a pan and temper with mustard seeds and curry leaves. Pour it over the chutney and mix it well.

Coconut chutney is ready to serve.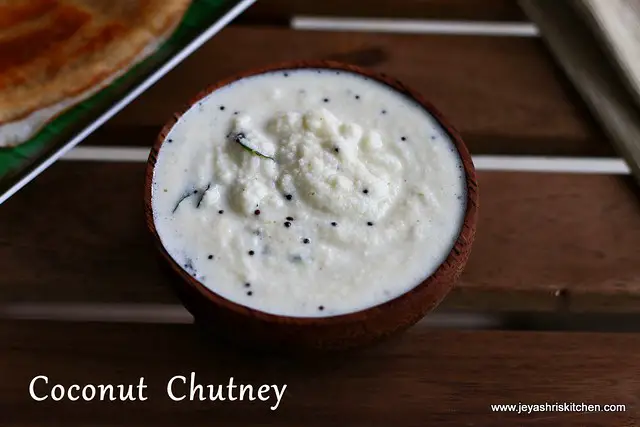 Notes:
If you want to keep this as getti chutney(thick chutney) do not add much water.
I personally love more thengai and less of roasted gram. If needed you can 1 more tblsp of chutney dal to this while grinding.
Green chili can be added according to your taste and preferences.
You can either add a small piece of ginger or garlic to enhance the taste.
Finely chopped shallots(small onion) can be added while tempering the mustard seeds. In that case omit the addition of shallot while gridning.
My daughter loves the addition of handful of coriander leaves in the coconut chutney.
If using for packing add a small piece of tamarind.