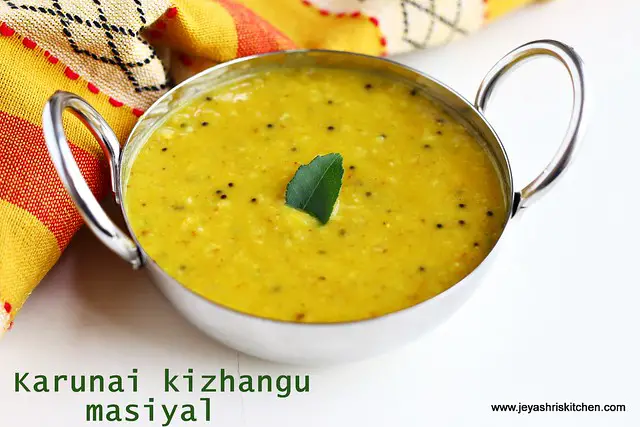 Karunai kizhangu masiyal| pidi karanai , many of us think this may be Yam, but this is different. This is a authentic recipe in Tamil brahmin cuisine.We don't add garlic or onion in this recipe. Generally this vegetable is very itchy and many will not use it much. But i have given tips to reduce the itchiness of the karunai kizhangu in this post. Amma makes masiyal with this. I bought this kizhangu 3 weeks back and made masiyal last week, In my mil's place we do it with yam and also the method is different. Even amma makes 2 varieties of masiyal with this pidi karanai. This one will be like kootu and the other one will be like sambar. Will share that recipe too soon. This version of masiyal my mom taught me last week when she was here and it turned out very well. During my childhood days, i never touch this when amma makes it. But now i love this masiyal and got few more yesterday to make this masiyal after 2 weeks.
Karunai kizhangu masiyal
Preparation Time : 10 mins | Cooking Time : 25 Mins |Serves: 3
Karunai kizhangu | Pidi karanai 3
Ginger small piece
Green Chili 1
Toor dal 2 tblsp
Sambar powder 1/4 tsp
Scrapped coconut 3tblsp
Coconut oil 1 tsp
Mustard seeds 1/4 tsp
Urad dal 1/4 tsp
Curry leaves few
Salt to taste
Lemon juice 2 tsp
Turmeric powder 1/4 tsp
Asafoetida a pinch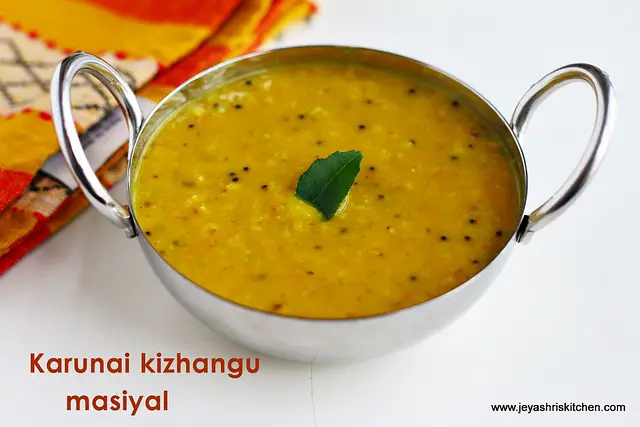 Method:
Cook the toor dal in pressure cooker along with turmeric powder . In a separate vessel put the karunai kizhangu also along with that. Just was the vegetable and keep. Do not add any water. Pressure cook till 4-5 whistles.
Once it is done, peel the skin of the karunai kizhangu.

Grind ginger and green chili coarsely.

In a pan roast the coconut and the ground chili and ginger in a low flame. Add few drops of coconut oil while roasting. Roast till the coconut turns golden brown.

Mash the cooked karunai kizhangu with your hands and add salt and sambar powder.
In a pan add oil and add mustard seeds and urad dal. Add curry leaves, Add in the mashed karunai kizhangu and the cooked toor dal. Add the roasted coconut mixture to this.

The mixture will be thick. Add water to adjust the consistency.
Let this mixture boil for few minutes and switch off the flame.
Add the lemon juice to this and mix well.
Karunai kizhangu masiyal is ready.
Serve with hot rice and any curry of your choice.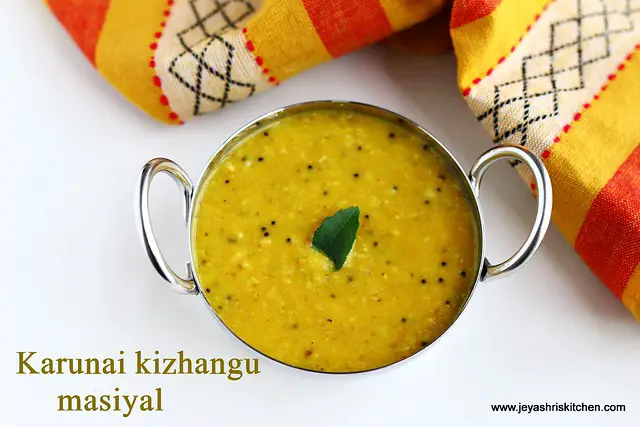 Notes:
When you buy the kizhangu keep it for 2 weeks and then cook it.
This will reduce the itchiness of the kizhangu. The older the kizhangu the lesser the itchiness.
You can grate the ginger and temper the green chili instead of grinding these 2.
Lemon juice adds a nice tanginess to the masiyal. So don't skip it.