no onion no garlic recipe- jain recipe
Dal dhokli, i have heard about this many times from a friend but never tried or tasted it. Basically it is a a mix of roti and dal which i always considered as a comforting one pot meal by itself. This recipe was in my to do list for a long time. Since i am posting  jain recipes | no onion no garlic recipes, i thought i will post this. Though i roughly know how to make Dal dhokli, this
video
helped me to know about the exact recipe of dal dhokli. I had this piping hot dal dhokli with crunchy peanuts on a rainy day afternoon for lunch. Check out my other
no onion no garlic recipes.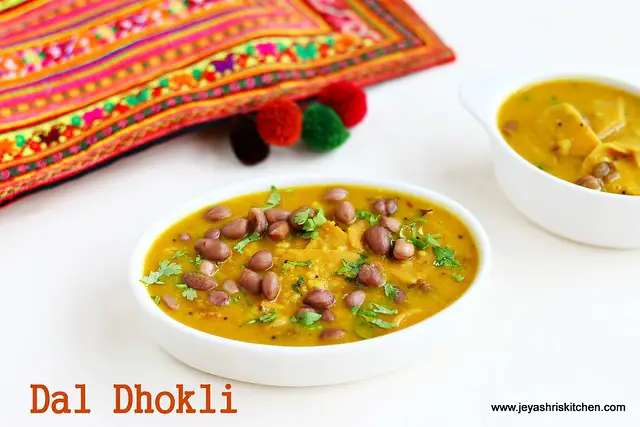 Dal dhokli recipe
  Preparation Time : 15 mins | Cooking Time : 30 Mins |Serves: 3-4
For dal
     Toor dal   1/2 cup
     Peanuts    1/4 cup
     Oil+ ghee    1 tblsp (together)
     Bay leaf    1
    Cinnamon stick   1 small
    Mustard seeds     1/4 tsp
    Jeera    2 pinches
    Red chili   1
    Curry leaves    few
    Red chili powder   1 tsp
    Coriander powder    1/2 tsp
    Jeera powder    1/4 tsp
    Salt     to taste
    Jaggery or sugar   1 tsp 
    Tomato   1/2 
For the Dhokli
    Wheat flour    1/4 cup
    Red chili powder   1/2 tsp
    Turmeric powder   a pinch
    Asafoetida     a pinch
    Oil    1 tsp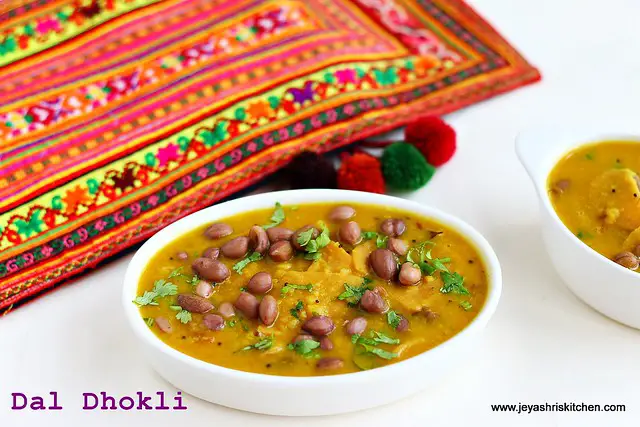 Method:
Pressure cook the dal and peanuts separately in a cooker till 5-6 whistles. You can soak the peanuts for 15 minutes if you want.
In a wide vessel add the wheat flour, salt, asafoetida, turmeric powder, red chili powder and knead this into a soft dough by adding water to this.

Cover this and keep it aside.
In a pan add oil and ghee and add in the cumin seeds, bay leaf,cinnamon, mustard seeds, jeera, curry leaves and red chili.
Mash the toor dal and add 1 cup of water to this and add it to the pan.

Boil it for few minutes. Keep the flame low.
Add the red chili powder, coriander powder, jeera powder, turmeric powder and salt.
Add 1 more cup of water and add deseeded finely chopped tomatoes.

Add the jaggery | sugar to this. Mix well and let this boil. Keep the flame very low.

This dal will be very thin, but it will thicken once we add the dhokli to this.
Now take a small lemon size dough and dust it with dry flour.
Roll this into a roti. Do not make it thick. Roll it like how we make for chapathi | phulka

Cut them into diamonds or squares. I used a pizza cutter to cut this. You can use a sharp knife to cut this.

Sprinkle little flour to this and add the cut roti pieces to the dal.

Cover this and boil it in a low flame for 7-8 minutes. Keep stirring in between. Add the dhoklis in batches. If you add all together it will get stick to each other.
Once done add the finely chop the coriander leaves and garnish with peanuts.

Dal dhokli is ready. Always serve this piping hot.
Generally they serve this with papad, pickle and buttermilk.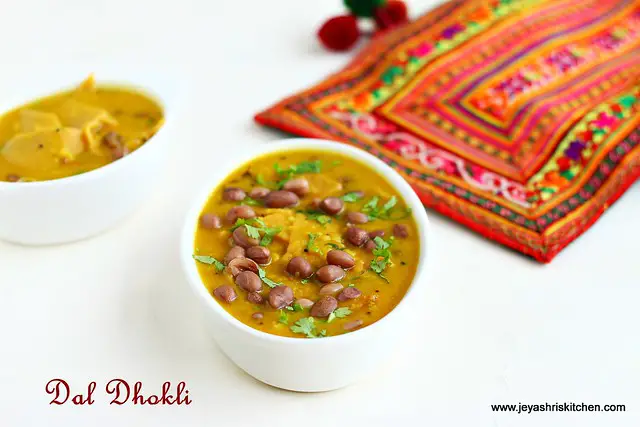 Notes:
You can add ajwain|omam to the dhokli while kneading the dough.
You can add the  peanuts while adding the toor dal . I wanted to add it in the last to make it attractive for pictures.
When the dal dhokli is cooled it will be thick. So always serve it hot.
You can add few drops of ghee while serving.